Content Marketing World is part of the Informa Connect Division of Informa PLC
This site is operated by a business or businesses owned by Informa PLC and all copyright resides with them. Informa PLC's registered office is 5 Howick Place, London SW1P 1WG. Registered in England and Wales. Number 3099067.
Orange Pants Society – Be part of it at #CMWorld 2016!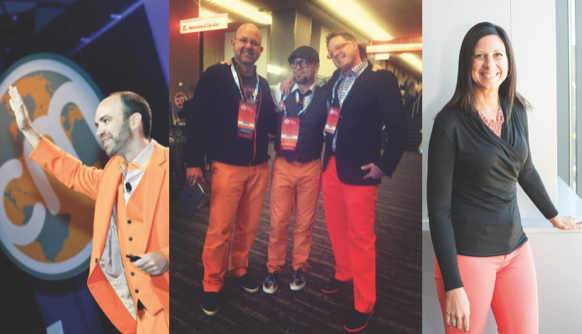 Photo credit: Joseph Kalinowski, Content Marketing Institute
Orange clothing has become synonymous with content marketing all over the world. From Joe Pulizzi's infamous orange tuxedo (and orange everything, really) to AJ Huisman's orange pants to Andrew Davis's orange pants and orange glasses, you'd be hard pressed nowadays to enter a content marketing event without someone donning orange.
At Content Marketing World 2015, Joseph Kalinowski (JK), CMI's amazing creative director, was catching up with AJ and Andrew – and an idea was born: The Orange Pants Society.
Attendees are already planning their orange for #CMWorld 2016:
So, who is in? Do you want to be part of the Orange Pants Society? All you need to do is send us a photo – formal, candid, or selfie – of yourself in orange pants at CMWorld and you can have full usage of this badge. And…we could even plan a meetup at Content Marketing World for our members. Email me at cathy[at]contentinstitute.com with your photo and we'll keep a list of our Orange Pants Society members so we can stay in touch!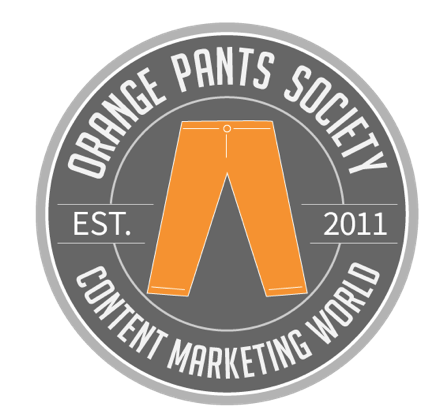 Join in the fun! And in the meantime, let us know where you found your orange pants for those of us that are searching for the perfect pair. The one I'm wearing in JK's photo montage are actually my sister's that she finally just gave to me because I borrowed them so often.
Looking forward to seeing you in 28 days! And now that you have your orange pants, you HAVE registered, right? You can still do that by visiting the Content Marketing World registration page. BLOG100 saves $100. 
Posted August 9, 2016 in: Event by Cathy McPhillips
---
UP