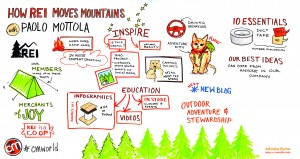 Every Thursday, a Scripted writer will recap a session from Content Marketing World 2014 that will be published here on the CMWorld blog. Find out more about Scripted by visiting their website.
Paolo Mottola, the Content Planning Manager of outdoor retailer REI, recently delivered a presentation about how REI's disruptive content marketing strategy generates sales and new customer experiences. In his presentation at Content Marketing World 2014, he explores how REI educates, inspires and engages customers through a wide variety of content strategies.
About REI
Mottola relates to his audience exactly what makes REI shine; it is an outdoor retailer that also happens to be a co-op. Anyone can be a member, which makes REI a social company with a very active and invested customer base. REI is a cross-channel retailer with 130 retail locations. It features in-store sales that can incorporate a mobile experience or use inbound marketing strategies to fuel its e-commerce business.
However, Mottola emphasizes that at the heart of REI is a connection with people who love to play outside: skiers, hikers, triathletes and family camping enthusiasts. REI's marketing team incorporates the life cycles of their customers into their content.
What They Do
REI is full of talented copywriters, designers and marketers, which is why most of their content is produced in-house. Mottola's role is to help orchestrate the various marketing teams and content production as they move from campaign to campaign, and season to season. It does not matter if someone is an intern or from what department they originate; the ultimate goal is to find killer ideas.
Inspire
REI likes to leverage the outdoor community that associates with the REI ethos. Mottola describes how the REI 1440 project — a microsite where people can upload photos and share their outdoor adventures — is a great example of this strategy. REI 1440 was created as a holiday campaign, but it has evolved a life of its own; over 250,000 photos are now tagged throughout the site. Essentially, REI 1440 allowed REI to scale through user-generated content, inspire through pure beauty and allow people to get involved with the REI brand.
Educate
REI likes to inspire through education and utility. Mottola indicates that they always ask themselves: is this a useful piece of information? They have classes and events at all of their stores and reach more Americans than any other outdoor organization. REI has very high authority for people searching for hiking gear, ski shoes and other outdoor equipment.
In addition, REI's website also has long-form articles about "geek-level" outdoor topics like layering or understanding what accessories one would need for kayaking. This long-form content is a huge asset for the company; people who read it are more likely to make faster and larger purchases.
Over the past few years, REI has also relied increasingly on different mediums like infographics and illustrations. Video content, often with an educational focus, can help people choose the right gear and learn about outdoor topics.
How They Measure Success
Mottola indicates they try to measure success primarily through stories and whether a marketing strategy was "disruptive." They look at numbers, graphs and data, but they often want to translate this into an engaging story. That might mean learning if someone who posts photos on REI 1440 is more likely to recommend REI to a friend: the type of story an executive can quickly understand.
They also examine campaigns like "adventure kitten," which was a departure from their usual advertising strategy. This particular campaign was the most popular, and it demonstrated a "disruptive" campaign that challenged their usual approach.
What's Ahead?
REI has launched a blog, which takes a different approach to content. They reach out to writers who are authoritative on their topics and often feature their own voice. They also want to expand video production and keep their existing content updated so it stays informative into the future. Ultimately, REI wants to keep pushing boundaries with their content and ensure outdoor enthusiasts are committed to the genuine love behind the REI brand.
Hear even more great case studies and content marketing examples from top B2B and B2C brands at Content Marketing World 2015! Registration is open now, Early Bird rates end THIS SUNDAY 5/31, and CMI100 saves you an additional $100 off of the Early Bird Rates! May is the best month to register. Register now!
Scripted provides high-quality, original content for a flat rate with a set turnaround time. Post guidelines for what you need, and five days later you'll receive professionally written and edited content.
Posted May 28, 2015 in: Event by Scripted Writers
---