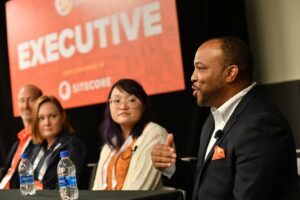 What does it take to direct the smartest, friendliest, and most awesome content marketers on the planet to Cleveland, Ohio? Drive, determination, and attention to detail. Here's how it all comes together.
More than 150 high-octane speakers – brand practitioners, industry thought leaders, agency leaders, communications professionals, and creators of all kinds – share their expertise with thousands of content leaders and practitioners each year. Together they create an energizing flow of ideas, inspiration, and advice.
Getting a powerful mix of diverse people and topics involves a focused and dedicated crew. Here's a peek at what it takes to curate a program like this.
Our goal is to create an event schedule that includes forward-looking trends and core concepts so that marketers and content creators at any stage of their career will find sessions to help advance their content marketing practice.
Lap 1: Call for speakers
Months before the event kicks off, CMI issues a formal call for speakers. We get the message out by email, on social channels, and through partner organizations, asking for great speakers with interesting content marketing stories to tell and lessons to teach.
This year, hundreds of proposals streamed in. Our review committee carefully read (or watched) and scored each one, looking for fresh ideas, innovative examples, practical guidance, inspiration, and a you-are-going-to-learn-something-important-from-me pitch. This call for speakers fills about half of the 20+ #CMWorld tracks.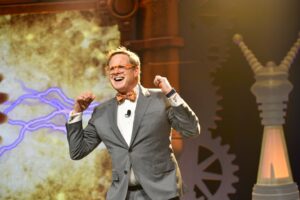 Lap 2: Outreach
Our event, editorial, and marketing teams collaborate to recruit for the remaining tracks. We hunt for speakers with something important to say about content, creativity, or marketing, asking media partners and community members for suggestions. We invite top-rated speakers based on the previous year's session evaluations to return and wow our audience again. (Content Marketing World Hero Award Winners Ann Handley and Andrew Davis will be back again this year!)
And we aim for diversity in topic, age, gender, race, experience, and more to reflect the needs and the makeup of our whole community. I wrote about our practices a couple of years ago, and we try to improve every year with the community's help.
Lap 3: Setting expectations
We make sure speakers know that participating in Content Marketing World means fully engaging with the audience – whether by answering questions during their session, huddling in the hallway after, connecting through the mobile app, or providing contact info for post-event follow-up.
Luckily, our speakers tend to be some of the friendliest, most thoughtful professionals on the planet. Many serve or have served as mentors to marketers in our community. And many extend their relationship with the community year-round, participating in Ask the #CMWorld Community livestream interviews, interacting during monthly Twitter chats, and contributing to articles on the Content Marketing Institute website.
Lap 4: Feedback
We urge attendees to sound off about the Content Marketing World speakers. Attendees can submit speaker evaluations through our mobile app the minute a session ends.
Knowing how much attendees liked (or didn't) a speaker or a topic helps us create an even better program the next year. Attendee comments also help speakers refine their skills.
To encourage feedback, we donate one dollar to charity for every speaker evaluation attendees fill out.  Last year, that meant an additional $1500 to the Cleveland Food Bank. This year, Seeds of Literacy will receive the donation.
Joining the circuit
We are always looking for fresh and innovative speakers and ideas – regardless of the time of year. If you've seen a speaker who wowed you, if you know of a content marketer with a great story to tell, if you've read something by someone whose perspective is especially impactful, unusual, underrepresented, or otherwise exceptional, please share your thoughts and suggestions with us.
Tweet us @CMIContent, drop into the CMI Slack community, or send us an email. We'd love to hear from you.
Posted July 21, 2022 in: Event by Stephanie Stahl
---