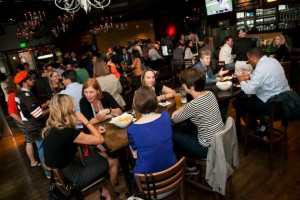 You've been on CMI webinars and twitter chats, you read the CMI articles every day, and you engage with the content marketing community on a regular basis. Now there's an event coming up. Haven't you gotten all you need in the content marketing space already? Why invest the time and money to attend?
Nurturing your Network
It's so cliché, but in-person events are a great place to connect offline with the people you spend time with online. It's a time to talk to, and learn from, people that are dealing with the same challenges you are, and who may in fact have that awesome, yet viable idea you have been looking for that help grow your business.
How can you maximize your networking time? Make a list of people that you must see in person during your time, and also some questions you'd like to pose to other attendees who you may sit next to in a session, or who you end up meeting at an evening networking event. Trust me, they'll love that you have a conversation starter, and that industry peer relationship can go far beyond the hors d'oeuvres table.
Taking Time to Think
It is hard to make time for strategizing and bigger thinking in an average workweek because of all of the day-to-day projects that come up. You've been trying for months to build out some templates for your editorial calendar for your blog. You're trying to find time to create a workflow for your creative team to provide assets for your content calendar. You know that a particular channel would be ideal for your company, but don't know how to get started.
How can any of these items relate to in-person events? Primarily, listen to the speakers and the sessions that tell you how to do some of these things. One of the best things about Content Marketing World speakers, in my opinion, is that they aren't talking heads. They are there to teach, to explain, to SHOW. Yes, you'll get inspired. Yes, you'll laugh. But ultimately, these speakers were selected because they can cite specific examples in their own content marketing that they can show you.
Also, make the most of your flight time. It's a great time to organize your inbox, to create folders in your documents to get you more organized. It is uninterrupted quiet time (hopefully) that you can use to write some blog posts. In-flight time is precious to me to do some of my best thinking. A window seat and my earbuds are all I need to start thinking.
Taking Technology for a Test Drive
Sponsors help make events happen. But did you ever look at the sheer volume of brilliance in an exhibit hall? From the behemoth larger companies in the content marketing world to the new, innovative startups, all have something to offer attendees. Consider this the RFP phase of your tech company search. Visit the booths, talk to folks, explain your challenges, needs, and what hole you're hoping to fix with a partner. Putting a face to a brand certainly humanizes it; and making a connection beyond products and services helps too.
Sit down with your team before an event (even if the team is just you), and look at your documented content marketing strategy. Where do you need help? Where can you be more efficient in your day, but what can't you do personally? There are likely lots of opportunities where partners can help you. Bring that list with you to the event, scope out the list of sponsors before you arrive, and have a plan to visit those booths in the exhibit hall.
The best way to enjoy an event is to be prepared for that event. Take the time needed to really know why you're there. Then, of course, make sure you have some fun. Because there is lots of fun to be had.
Speaking of events, check out Intelligent Content Conference, March 23-25, 2015 in San Francisco. Our early bird rates end 1/31/15, with ICC100 saving $100. Also, our flagship event, Content Marketing World, is taking place September 8-11, 2015. Check out both events, and find the one that's right for you. Interested in both? Let us know. We have a killer deal going right now. 
Posted January 28, 2015 in: Event by Cathy McPhillips
---