Personalization. We love it as marketers, because it helps us deliver relevant content to our customers. We love it as customers when brands send us content that is something we actually care about…and might not have even known we actually needed. But when we don't love it, it gets a little creepy. Right? What's the right balance? How do we gather the info to personalize? Are we personalizing in a way that really is improving our customer's experience, or are we doing it strictly because we only have data to personalize in a handful of ways? So many questions! So, we were so thrilled that Benyamin Elias, content marketer at ActiveCampaign joined us as our special guest on this week's #CMWorld Twitter Chat.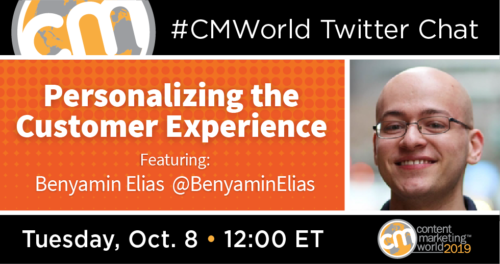 While there was a definite split in our community on the love or sheer dislike of candy corn, we were all very aligned when it came to personalization. There's a time and a place, and there's a right way and a wrong way. Read on for a few insights from our community, then check out our Twitter Moment for more tweets from our smart community.
As always, you can dive into the #CMWorld hashtag on Twitter to see the entire conversation that included hundreds of tweets from a fast-paced and educational hour. Thanks again to Benyamin, Vera and the ActiveCampaign team for being so insightful, prepared, and engaging during our #CMWorld Twitter chat.
We kicked it off with some basics. How does personalized content impact the customer experience?
Then…we run into the problem of data, technology, integrations and more. How are we limiting ourselves?
A few helpful resources were shared during the chat.
Does your company use personalization in your marketing efforts? If yes, what successes have you seen? If not, what's holding you back?
There was many more conversations going, so be sure to check out our Twitter feed.
What a great time! We'd love to have you join our #CMWorld Twitter chat on Tuesdays at noon Eastern. Connect with content marketers from around the globe and discuss a different topic every week.
Posted October 9, 2019 in: Event by Cathy McPhillips
---