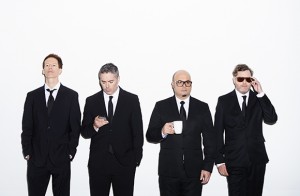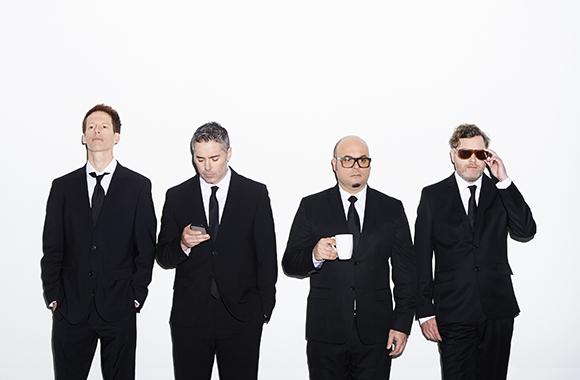 After a long day of speakers, great and thoughtful sessions and networking, you have a few options. Head back to your hotel and crash, fire up the computer to get some work done, or head out with fellow attendees for an entertaining night. (Hint: Go for Option 3! You're only with these folks a couple times a year at most.)
We take our entertainment very seriously around here, and are excited to announce that Canada's own Barenaked Ladies will be our evening entertainment during Content Marketing World 2015. Thanks to our friends at Crowd Content for making this possible!
If you're not familiar with the Barenaked Ladies, you'll be missing out no longer. BNL is comprised of four gentlemen who, for two decades now, have entertained crowds all over the country with their quirky songs, musical talents, and mad improv skills.
Best of all for the content marketing crowd? BNL has been storytelling for years, and in a way that has engaged audiences, created superfans and a cult-like following, and created communities in many towns in which they have frequented.
Our Wednesday night event with BNL will take place at Cleveland's Public Auditorium, adjacent to the Cleveland Convention Center in the Music Hall, a legendary space. It will be within walking distance of the hotels, and just a stone's throw from E. 4th and other great restaurants around town for any pre- or post-concert happenings.
Let us know in the comments –
Have you seen BNL? When?
What is your favorite song?
Do any of their songs remind you of something special?
I'll start:
I've seen BNL countless times – at the Rock and Roll Hall of Fame in 1997, at The Odeon, Lakewood High School's Civic Auditorium, and Blossom Music Center. My favorite song? Oh there are so many, but I'd probably say my favorite BNL song is "Hello, City," dating back to 1992. I really don't know why, I guess it mostly reminds me of my younger days and the time when my friends and I looked forward each tour to seeing the Barenaked Ladies when they passed through Cleveland!
We hope you can join us at #CMWorld 2015 this fall, where you can create your own memories with a great event capped off by great fun and entertainment. Register today! Don't forget that CMI100 still saves you $100 off your main event and all-access passes.
Posted April 27, 2015 in: Event by Cathy McPhillips
---