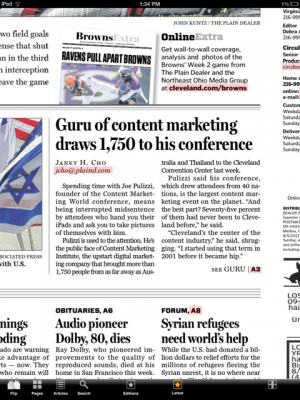 Content Marketing World was fortunate to have Janet Cho of The Plain Dealer visit our event last week! We're proud to host the event in our hometown. We're proud that you were all there with us! We can't wait for September 2014!
Janet spent some time talking to Joe and some of our attendees and posted an article here.
Here's why we do what we do, and why we're so happy to have you all with us. And we're of course thrilled Kate feels this way!
Kate Eidam, a business lead at Akhia Public Relations in Hudson, put it this way: "Consumers are accustomed to ignoring advertising. It's often just background noise. At the same time, they demand more from brands in terms of relevant information, transparency and responsiveness."
"This leaves a gap, which is, in turn, an opportunity for marketers to reach customers with authentic, relevant, helpful and engaging information and conversations," she said. "Content marketing is at the core of filling this gap, as well as helping brands increase revenue, conversion and awareness."
"It's the best conference I've been to in years," she added. "The idea-gathering, creation, curation and exchange has been unprecedented. It's one of those conferences you leave feeling re-energized and more excited than ever about the work you do every day."
Posted September 23, 2013 in: Event by Cathy McPhillips
---