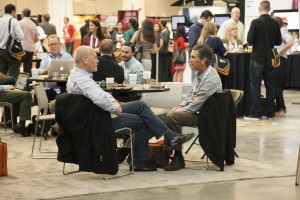 When you sponsor an event and have exhibit space, do you have a documented strategy? Much like content marketing, the success of your event sponsorship will increase exponentially when a written plan is in place, well-thought out, and discussed among members of your team.
Every Monday in May, we'll post two tips for Content Marketing World sponsors and exhibitors on how you can connect with our attendees before, during and after the event, and make the most of your time in Cleveland while you're here.
Selecting the Right "Celebrity" To Connect with Your Audience
Whether it's a webinar guest speaker, an exhibit booth promotion, or guest post or interview, sponsors are always looking for that big name personality that will attract an audience. Often sponsors look to popular television shows to find celebrities that connect with both their attendees and their brands. However, pop culture isn't always about television.
My friend's daughter is in college. She doesn't watch television shows at all. What she and her friends watch are web series on YouTube. While her parents are watching Walking Dead, she is watching the YouTube series Bite Me. Episode one of the series has well over five million viewers.
I spoke to an exhibitor recently who told me they invited a popular A&E series star to appear in their booth during a recent trade show. This star's demographics matched up perfectly with their business audience. However, one of their millennial employees told them about a popular webcast and encouraged them to invite them to appear as well.
This company took a chance and invited the podcasters to broadcast the show from their booth. That exhibitor told me that their A&E star was definitely a draw, and they had many attendees stopping by the booth for an autograph and a picture with the star. What surprised him was the popularity of the podcasters, a couple of guys he had never heard of.
The podcasters had a constant crowd in front of them with lines of eager fans weaving through the exhibit hall. They were far and away more of a draw than the A&E celebrity. Their appearance fee was also significantly cheaper.
Talk to your customers and even your employees to find out what they are listening to and watching, to find the perfect person who will connect with your audience.
Measuring Success of Sponsorships Starts with Objectives
We've talked about the importance of setting the right goals in regards to your sponsorships. Now, let's take a look at measuring objectives. While some objectives such as on-site sales at events can be measured monetarily, other very valuable objectives are almost impossible to put an accurate dollar figure on. However, they can still be measured for effectiveness.
Your objectives should be very specific and clear. You can't measure general objectives such as building an email database. That is a great objective, but it's impossible to measure success on that objective. You want to go deeper in your actual parameters.
How many people do you want to join your database? What kind of people do you want to join your database? What attributes do those people have? Is it title, company size, purchasing authority or buying timeframe? What is the timeframe in which you hope to have them join?
Once you have clearly defined these objectives, you'll have a better chance at measuring the success of any particular sponsorship. This also gives you the advantage of setting things up on the back-end to make sure you are in a position to gather the right information. You'll know what information must be collected from each person, and what information is optional.
You also want to share these objectives with the organization that is selling the sponsorships. While they can't measure success for you, they can help you determine if your objectives are realistic. They are also able to help you achieve your objectives. Perhaps some of the information you need can be collected on their side during the registration process, cutting down on the required fields you require for your database signups.
Take a look at your sponsorship objectives now and make sure they are very clear and specific and, therefore, measurable.
By Traci Browne, freelance B2B writer and author of The Social Trade Show
More Questions?
How else can we help you? Have you given thought to your booth space at CMWorld 2015? We're here to help brainstorm with you, so please reach out if need be. Or, let us know your thoughts in the comments, and we'll work to answer your questions! We hope you've enjoyed these posts geared toward our sponsors and exhibitors!
Are you interested in being a sponsor at Content Marketing World? Contact Peter Loibl for more information and options!
Posted May 25, 2015 in: Event by Cathy McPhillips
---