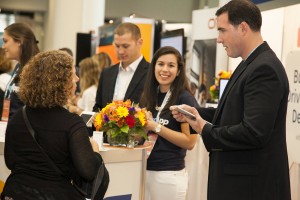 Let's face it. Events and conferences couldn't happen without support. And in our case, our support comes in large part from our great sponsors. Of course there is the financial side of things, but what our sponsors have been able to do by giving our attendees a meaningful experience has been critical to the success of our event.
Every Monday in May, we'll post two tips for Content Marketing World sponsors and exhibitors on how you can connect with our attendees before, during and after the event, and make the most of your time in Cleveland while you're here.
Do You Have an Idea For a Sponsorship?
The first place many companies turn to when thinking about sponsoring an event is often the "sponsorship opportunities" section of the event website. However, here's a little secret: Those "sponsorship opportunities" are just a starting point.
Event organizers are always looking for sponsorship ideas that add value to their attendees. If your company has an idea that will solve a problem for the attendee, then the event organizer wants to hear about it.
For example, maybe the event is being held in a city where you have your corporate offices. Attendees going to the event want to know about good restaurants and places to visit while in town.
You could pitch a concierge sponsorship to the event. Have your employees create an insider's guide to the city. You could even set up a concierge kiosk at the event to help attendees get to know the city.
A sponsorship like this benefits everyone. It makes the event organizer look good. It solves the problem of what to see and do during free time for the attendee. It benefits your company by showing off your customer service skills.
You can pitch your idea first to the sponsorship sales person. If they don't seem interested don't stop there. Reach out to meeting director or meeting manager at least six months before the event date.
Got an idea? Ask yourself:
Does it solve an attendee problem?
Does it benefit the event organizer?
Does it help us achieve our corporate goals?
If it does all three you have a great sponsorship idea.
Capturing Customer Testimonials
Events are great places to mingle with potential customers, but events are also where we get to reconnect, in person, with your current customers. Often, several current customers are at any one event.
This is the perfect opportunity to capture authentic customer testimonials and all you need is your smartphone and a little preparation.
What to ask: Instead of asking them to talk about how great you are in general, ask them specific questions:
How are they using your product or service?
How does your product or service save them time and/or money?
What feature do they find most helpful?
Ease into it: Loosen them up by starting with a few easy questions like where they went for dinner and what are they enjoying most about the event. Then you can ask your important questions, as their focus will be off the camera by then.
Sound is key: People will forgive a video with inadequate lighting, but bad sound will have them tuning out immediately. Buy an inexpensive microphone you can attach to your camera to be sure the event background noise will not interfere with your video.
Lighting tips: Smartphones are not great in low light situations. Try to get your subject in natural light if at all possible. Position them in an area where the light is in front of them instead of behind them. Light coming from directly above them will create some unflattering shadows.

Set the best stage possible to put your customer in the best light. Give them a reason to provide a testimonial, and find a way to thank them for their time.
By Traci Browne, freelance B2B writer and author of The Social Trade Show
More Questions?
What other questions do you have? How can CMI and the CMWorld team arm you with all of the data and information you need to be an engaged and enthusiastic sponsor?
Let us know in the comments, and we'll work to answer your questions!
Check back every Monday all month for more food for thought for our great sponsors.
Are you interested in being a sponsor at Content Marketing World? Contact Peter Loibl for more information and options!
Posted May 11, 2015 in: Event by Kim Borden
---