Content Marketing World is part of the Informa Connect Division of Informa PLC
This site is operated by a business or businesses owned by Informa PLC and all copyright resides with them. Informa PLC's registered office is 5 Howick Place, London SW1P 1WG. Registered in England and Wales. Number 3099067.
Preparing Your Content for the Holidays: A #CMWorld Twitter Chat with Casandra Campbell
It's the Season of Giving. Everyone seems merrier as they get ready for Thanksgiving, Black Friday, Hanukkah, Christmas; you get the idea.
So how can marketers use the spirit of the season to connect with audiences? How can you gift them the perfect content?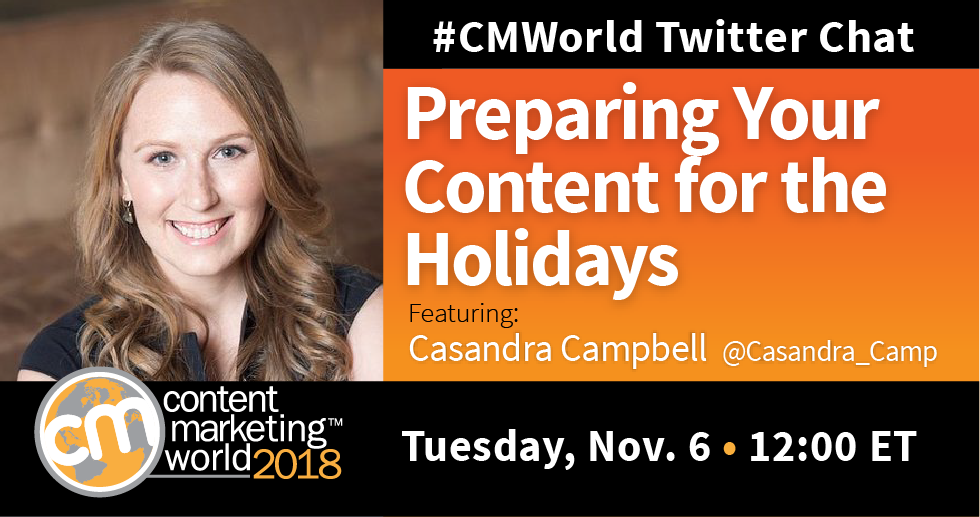 On a recent #CMWorld Twitter chat, Casandra Campbell described how brands can leverage holidays for their content marketing. In her role as Testing and Experimentation Lead at Shopify, Casandra has seen what leading brands are doing and shared with us her top tips and tactics.
Are you wondering what present to give your audience? Below are two questions our community weighed in on. Want to see all of our chat Q&As? Take a look at our Twitter Moment.
What are the key components of a solid holiday marketing strategy? Do we need to rethink how we approach our content marketing for this time of year?
Not everyone celebrates the same holidays. What steps can marketers take to make sure their brand messaging does not offend their audience?
How are you leveraging holidays to support your content marketing? Let us know in the comments below.
Stay on your boss' nice list. Attend ContentTECH Summit and bring innovative and engaging content to the table all year long. Registration is now open.
Posted November 7, 2018 in: Event by Monina Wagner
---
UP