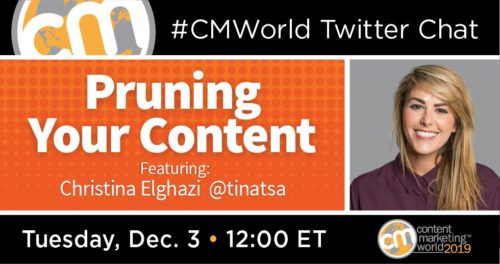 You write content, publish it, distribute it. Then what happens? Months and then years pass. (Maybe even a decade?) And that amazing content you wrote ages ago is:
A) Out of date
B) Irrelevant for your evolved customer
C) Poorly written
D) All of the above
That's when content pruning can help. Pruning can mean revising, republishing, revamping, combining and more. It could even mean deleting. But it's not as simple as that, and there's a lot of work to be done. So, we went right to the expert, Christina Elghazi, marketing director at The Search Agency. We knew she knew her stuff, but WOW, was this a great conversation. We broke out of our usual Twitter Moment format where we usually pull some of the responses from our guests and community, and this time we only included the tweets from Christina because they were so useful and tactical.
But, during our hour together, there were so many great tweets and insights from other smart marketers in the Twitter Moment so we wanted to offer up this Hashtracking link that includes tweets from the fast-paced hour. We hope you find it useful!
Below we've included a few great moments from the chat.
Let's start from the top. How do you know it's time for a content pruning?
OK…so you're working on the pruning process, but how do you ensure that it's helping site performance and customer experience?

And lastly, you've completed the pruning process. Phew! Let's not wait 10 years to do this again, OK? But in the meantime, what can we do from a process and workflow standpoint to make the pruning process more efficient when it's time to do it again?
We're going to end this post here because, quite frankly, you have some pruning to do. But seriously, Christina's responses were amazing, so check out her responses on our Twitter Moment and then check out the full Hashtracking link to read more brilliance from our community. As always, you can follow the #CMWorld hashtag on Twitter to stay with us each and every day of the year.
You really should come hang with us when we have our #CMWorld Twitter Chat reunion, also known as Content Marketing World. If you can believe it, registration for next October is now open, and we'd love for you to get the best pricing before 12/31/19. We hope to see you then!
Posted December 4, 2019 in: Event by Cathy McPhillips
---