Content Marketing World is part of the Informa Connect Division of Informa PLC
This site is operated by a business or businesses owned by Informa PLC and all copyright resides with them. Informa PLC's registered office is 5 Howick Place, London SW1P 1WG. Registered in England and Wales. Number 3099067.
Purpose-Driven Content Marketing: A #CMWorld Twitter Chat with Julia Flaherty
How are you and your brand making an impact in the world? We're not talking about the content marketing world. We want to know how your organization's values leaving a mark in the lives of your customers and those around them.
Many brands are turning to purpose-driven content marketing, hoping to retain customers and attract new ones. But they often stop short, believing a ribbon or one-off campaign will do the trick. CMI's Kim Moutsos argues there is a distinct difference between purpose-driven and cause-related marketing. She says purpose-driven marketing revolves around a brand's principles. What does your company believe in? Where does it stand?
Julia Flaherty understands this difference well. Julia is Marketing Coordinator at Ledgeview Partners. She is also a health advocacy, helping spread awareness for Type 1 Diabetes. Because of her work with JDRF, we knew she would be the perfect person to led a #CMWorld Twitter chat on purpose-driven content marketing.
What follows is a brief look at our conversation. You can find more tweets from Julia and our community in our Twitter Moment.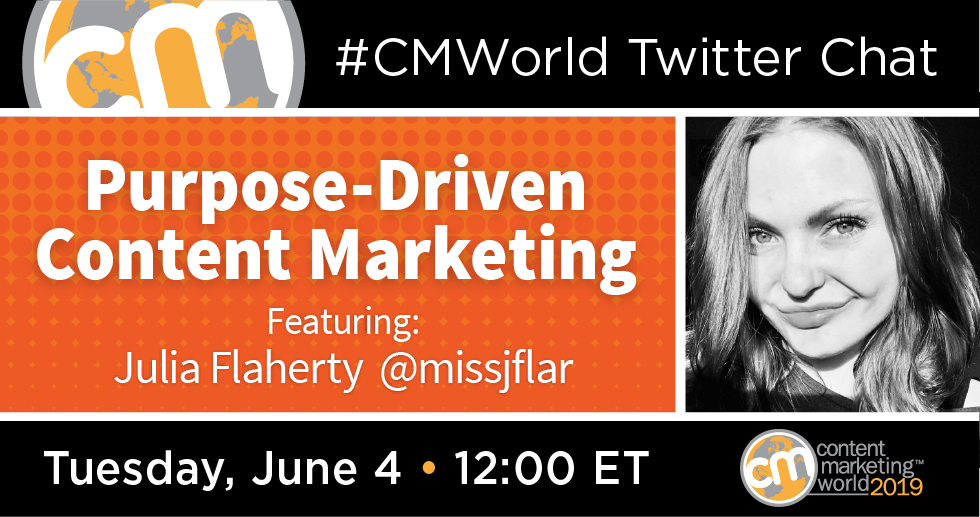 Why is purpose-driven marketing so relevant today?
How can you tell the story of your brand's purpose without seeming self-promoting?
Are you finding success with purpose-driven content marketing? Have you seen any brands doing it well? Let us know in the comments below.
Think purpose-driven marketing applies only to consumer-oriented brands? Think again. Lincoln Electric's Craig Coffey will share real cases of B2B strategies that have worked during his Lunch and Learn at Content Marketing World. Sign up now with code SM100 for a $100 discount!
Posted June 5, 2019 in: Event by Monina Wagner
---
UP