Content Marketing World is part of the Informa Connect Division of Informa PLC
This site is operated by a business or businesses owned by Informa PLC and all copyright resides with them. Informa PLC's registered office is 5 Howick Place, London SW1P 1WG. Registered in England and Wales. Number 3099067.
Purpose-Focused Content Marketing: A #CMWorld Chat with Russell Sparkman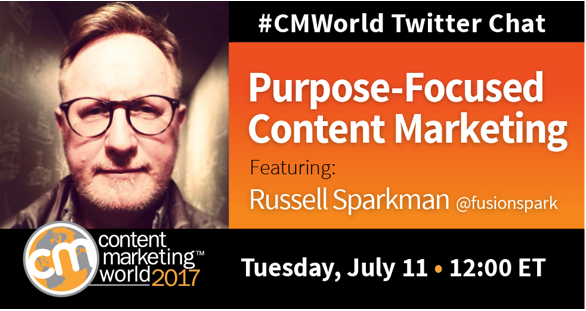 Empathy is a powerful tool for tapping into meaningful content that matters to our audiences. In a recent #CMWorld Twitter chat, Russell Sparkman, CEO of FusionSpark, explained why having a purpose provides a foundation for good content (and great storytelling).
Humanize it
The challenge for brands is to ensure they have a "why" that their audience feels is important. A way to combat this is to bring the human experience into focus. Content then becomes less about the product. It becomes more about creating a content marketing plan that will further the brand's purpose and growing a stronger community.

Many challenges ahead
While most brands recognize the importance of having a purpose, they aren't always accustomed to creating content around their efforts. They are faced with many challenges and objections.
What tactics are you using to create purpose-focused content marketing? Let us know in the comments below. And for more insights, check out our Storify recap.
Want to learn more about #ContentThatMatters? Register for Content Marketing World and Sparkman's session and/or his Non-Profit Industrial Lab. Code SM100 saves you $100 at checkout!
Posted July 13, 2017 in: Event by Monina Wagner
---
UP