Every day, I get to talk to some pretty remarkable marketers.
As Content Marketing Institute's community manager, I know firsthand how powerful communities, on- and offline, can be. Since starting at CMI, our community has grown. The industry has matured. And with this evolution, leaders have emerged.
That's why CMI and VP of Marketing Cathy McPhillips established the CMWorld Community Champion Award. With this award, we want to recognize individuals who have exemplified leadership within our community, excelled in day-to-day content marketing, and have shared knowledge, learnings, challenges and successes.
Before our fourth Community Champion is named, we wanted to introduce you to our previous winners. These leaders connect people and information. They are expert contributors, empowering other marketers with their tremendous knowledge. Sometimes, they attend our weekly Twitter chats. They host a meetup at Content Marketing World. They encourage conversations year-round. But always, they prove they are innovative professionals committed to content marketing. And they are all-around good, kind people. They deserve peer recognition for their outstanding efforts and achievements.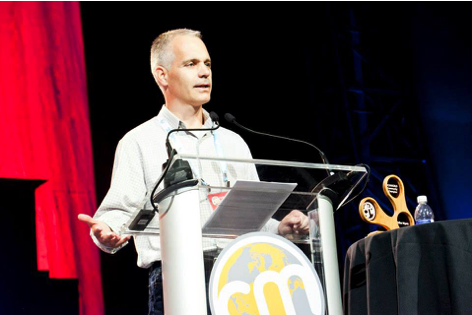 Mike Myers
Content Marketing Consultant, Nationwide Insurance
2015 award recipient
Choosing Mike as our inaugural Community Champion was easy. He has always stood out in a crowd. (And that's not because of his signature hat. See his Twitter profile if you don't believe me.) He champions the practice of content marketing to his company and the industry as a whole. He has dedicated his time and knowledge to help the Content Marketing World community – on Twitter chats, as a CMWorld speaker, and beyond.
[Meet Mike on Twitter and LinkedIn.]
Erika Heald
Content Marketing Consultant, Erika Heald Consulting
2016 award recipient
For years, Erika has dedicated her time and knowledge to help the Content Marketing World community. She has made attending our events a priority, as a speaker and an attendee. Erika is a frequent contributor to industry publications and hosts her own online chats, advancing the practice of content marketing. And she is an incredible ambassador of CMI.
[Meet Erika on Twitter and LinkedIn.]
Berrak Sarikaya
Senior Social Media Manager, Yesler
2017 award recipient
Berrak has created content and written for some of the best in the business. She has shared her expertise as a conference speaker and a guest on the #CMWorld chat. And she offers her wisdom with a lot of laughter. Last year, she was so passionate about continuing conversations that she started a Slack group that is still active today.
 [Meet Berrak on Twitter and LinkedIn.]
Who will be the next #CMWorld Community Champion?We'll find out next week when the winner is announced at Content Marketing World. And if there is a #CMWorld community member who has influenced your work and earned your respect, please let me know so we can shine a spotlight on them!
Haven't signed up yet for Content Marketing World? Want to meet our Community Champions in real life? There's still time. But act fast, registration closes soon. Use discount code SM100 to save $100.
Author's note: CMI Vice President of Marketing Cathy McPhillips contributed to this post.
Posted August 30, 2018 in: Event by Monina Wagner
---