Content Marketing World is part of the Informa Connect Division of Informa PLC
This site is operated by a business or businesses owned by Informa PLC and all copyright resides with them. Informa PLC's registered office is 5 Howick Place, London SW1P 1WG. Registered in England and Wales. Number 3099067.
Refreshing Your Personal Brand: A #CMWorld Twitter Chat with Anh Nguyen
Branding isn't just for companies. Your personal brand is who you are, what you stand for, and how you express those values.
Developing your personal brand may sound intimidating. Evaluating it as you and your career evolve might be a bigger challenge. But there are steps you can take to ensure your personal brand accurately reflects your identity.
Amplified Marketing Founder Anh Nguyen believes the story we tell through our personal brands can open – and close – doors. To jumpstart a refresh for the new year, Anh provided helpful tips you can take action on now.
What follows is a brief look at our community's conversation with Anh during a recent #CMWorld Twitter chat.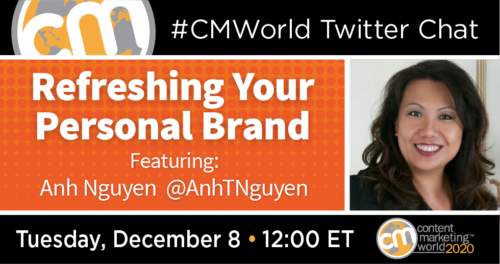 What are the steps you can take to think through and define a personal brand?
What role does your personal brand play when it comes to a career in content marketing?
There can be a tricky line between your personal brand and your employer's brand. How can they work together?
Are there resources/websites/people you suggest we follow when looking to create a personal brand?
See every tweet from Tuesday's chat here.
Now's the time to take stock of your personal brand, assess what it says about you, and  determine how it will help you achieve your goals. How do you manage your personal brand? I'd love to hear about.
Polish your content marketing skills and build up your personal brand when you attend CMI University. Our holiday present to you: CMWorld community members receive $200 off when you use code GIFT200 at checkout.
Posted December 9, 2020 in: Event by Monina Wagner
---
UP