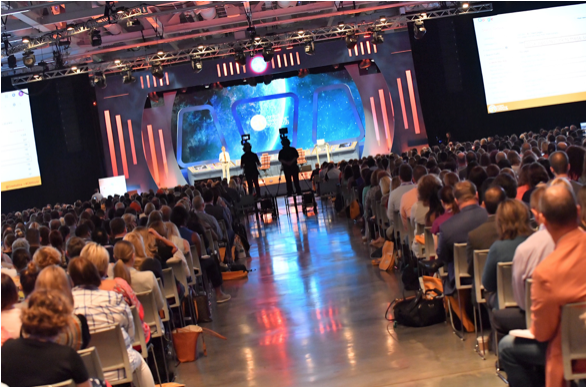 Don't miss out on your chance to be part of the content revolution. Seriously! We're back and better than ever, and we're ready for you to join us at the 7th annual Content Marketing World.
That's right, registration is now open for Content Marketing World Conference and Expo 2017. This four-day content marketing extravaganza known as #CMWorld (yes…our hashtag DOES have an in-person event just in case you know us only from our online community) is the largest content marketing event on the planet thanks to all of you.
Join more than 3,500 attendees from over 60 countries back in Cleveland, Ohio at the Huntington Convention Center of Cleveland from September 5-8, 2017. (Please get out your orange pen and mark your calendar, we'll wait…)
OK! Moving on, our 2016 rates will be honored for our 2017 event during the month of December 2016. So now is your chance to beat the rush by registering today. We're so lucky to have such an amazing community who took time to share their feelings about the event with us. Some of our attendees, speakers, and Joe had a couple things to say:
Joe Pulizzi, our fearless leader and founder of CMI, says it best: "More than ever, marketers need to be trained on the approach of content marketing. We believe that Content Marketing World is the way that innovative marketing and communication teams make that happen."
So what do you say? You need some more details? We like that about you. Here are some things you can expect:
More than 150 sessions to choose from, no matter if you're a newbie or an advanced practitioner.
At least 12 concurrent tracks covering strategy, measurement, social media, demand generation and much, much more.
Over 200 speakers from some of the most successful brands. Previous speakers come from leading brands including LEGO, Dell, Zillow, VISA, Verizon Wireless, General Electric, REI, Monster, Cleveland Clinic, Kellogg's, Citrix, Forbes, Avery Dennison, IBM, LinkedIn and many more.
And why do we think you need to be here?
You'll learn from the "who's who" in marketing- all sharing their case studies, best practices & inspiration
Opportunity to network with peers who have an intimate understanding of your daily struggles
The largest diversity in speakers, from color, background, gender, and so much more, for the widest range of experiences, opinions and learnings
FOMO! Come on, you don't want to be the only marketer in the world who misses out on this event!
So don't miss out on #CMWorld, it's like a "holiday" for the content marketing industry! 
Register today to secure THE best rates for #CMWorld 2017 until December 31, 2016. Bring your entire team. Also check out our exclusive VIP packages now available for the first time ever – which include preferred room blocks, premier seating, a VIP lounge, fast pass access, guaranteed sessions and so much more. Learn more about speakers and agenda on our website via the navigation above.
And in the words of Andrew Davis, "If you're on the fence about coming to CMWorld, I'd say you have to try it once." 
What do you say? Take advantage of the lowest rates, use up that "use it or lose it" marketing budget before the end of 2016, bring a colleague, and hold on for a fun and educational journey with our awesome community over the next nine months, until it all culminates in Cleveland in September.
Registration is now open! Make your move before these rates end on December 31, 2016!
Posted December 2, 2016 in: Event by Cathy McPhillips
---