Content Marketing World is part of the Informa Connect Division of Informa PLC
This site is operated by a business or businesses owned by Informa PLC and all copyright resides with them. Informa PLC's registered office is 5 Howick Place, London SW1P 1WG. Registered in England and Wales. Number 3099067.
Rev Up with CMWorld Physical and Mental Exercise Sessions
Content Marketing World has so much great content and networking (parties!) to offer through the week. But we also want to help keep you healthy and fit while you are here.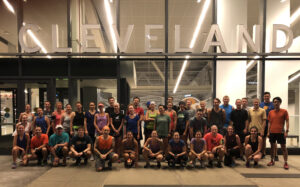 Again this year, we'll be offering our Running/Walking Club on Wednesday, Sept. 14 and Thursday, Sept. 15. The 3-mile run or 1-mile walk will allow you to see some of the city's most interesting architecture and attractions – the Rock and Roll Hall of Fame, beautiful Lake Erie, the Browns' stadium, and more. Meet at the Lakeside entrance of the convention center at 6:00 am and team captain, Joseph Kalinowski, will get you energized! Contact JK if you have any questions.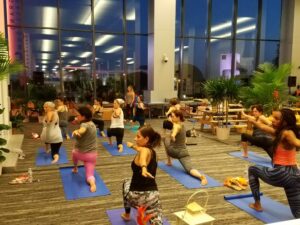 If yoga is more your jam, we'll be offering an all-levels Yoga Flow class on Wednesday, Sept. 14 and Thursday, Sept. 15 at 6:00 am as well. Beginners and experienced yogis welcome! Enter the convention center at the Lakeside entrance and meet in the lower level outside of the Grand Ballrooms. Yoga mats will be available! I'll be there along with an experienced yoga instructor. RSVP here to let us know you'd like to join.
Also on Wednesday and brand new this year, you can take part in mental exercises – Creative Pushups! Brought to you by Manifest, this program will take the stress of learning off your brain and focus on expression. It will help you pump your brain full of fresh, innovative, and stimulating ideas to get unstuck. It will feature four thematic stations – Drop It Like It's Hemingway, Destroy Your Mona Lisa, Sell the Moon, and Master the Disruption. You can learn more here about these fun and interactive activities.
Posted August 22, 2022 in: Event by Amanda Subler
---
UP