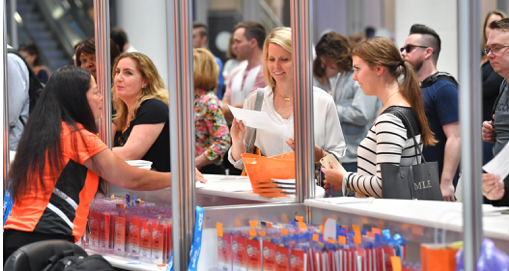 When you invest in something, whether it's a new car, a bike or a dishwasher, you often look for reviews from others who have done the same thing as you make decisions, right? It should be the same for the time and money you invest in the conferences you choose to attend.
To help, we're gathered some reviews of Content Marketing World from attendees who provided their own thoughts about the conference right after attending CMWorld last year. And, while many people had nice things to say, what we value most is the diversity of their perspectives.
Some have attended multiple times, while others were first-timers. Some came alone, while others traveled as part of a group. Some talked about the sessions, while others appreciated the after-hours fun.
In hopes that their verbatim feedback might help you, we're sharing some of them here:
"I loved everything about my experience at Content Marketing World 2016. It was my first time attending, and I came by myself, but I still felt like I had a very educational and fun time at the sessions and activities. The whole conference was a whirl of activity, and the staff helped keep the flow very natural. The keynote speakers were fun and engaging and the session leaders we all very experienced and gave amazing advice and knowledge. I would recommend this to anyone in the marketing world looking to gain an edge or become better at their job."
–Lauren Barron, Manager of Production and Editorial at EBSCO Research
"Four people from our marketing department attended and we all took different tracks and were able to compile all those notes to better identify where we excelled, where we needed help and what gaps existed. What we learned and the insights we plan on implementing will take our content marketing strategies to a higher level. Getting to meet new people and further my working relationship through the fun at the Cheap Trick concert was invaluable. Thanks for a great event!"
–Marybeth Baxter, Digital Marketing Specialist, Beck's Hybrids
"For those working in marketing purgatory, this is just the motivational kick you need. It doesn't matter what industry you're in, the basic tenants of marketing and the shared experiences by your marketing peers are the same. Coming together to share these experiences, what we've learned and how to implement the strategies are crucial to the success of our marketing efforts and the companies we represent. Don't wait another year."
–Rebecca Bretana, Content Marketing Manager, Diversified Labeling Solutions
We encourage you to reach out to others and learn as much as you can about the different conferences available. There are a lot of great ones out there and we're flattered you may be considering ours.
Regardless of whether you choose to attend Content Marketing World or another event, the choice to invest in yourself is always a wise one. Do you have other questions about our annual conference and expo? Reach out to the #CMWorld community on Twitter. It's a fun and smart bunch, and they'd love to help any way they're able.
If you want to learn more about the critical topics all marketers need to know when adding content marketing to the mix, come to Content Marketing World 2017, September 5-8 in Cleveland. It's a great way to invest in yourself! And, Code BLOG100 saves $100! Register today!
Posted June 19, 2017 in: Event by Mike Myers
---