Content Marketing World is part of the Informa Connect Division of Informa PLC
This site is operated by a business or businesses owned by Informa PLC and all copyright resides with them. Informa PLC's registered office is 5 Howick Place, London SW1P 1WG. Registered in England and Wales. Number 3099067.
Revisiting Your Content Marketing Strategy: A #CMWorld Twitter Chat with Michael Brenner
Our latest B2B Benchmarks, Budgets, and Trends report found that 69% of top performing content marketers have a documented content strategy. But for content efforts to remain effective, you must continually evaluate it.
Given our current health crisis, now might be a good time to look. Can a pre-pandemic strategy work in this new landscape?
To find out, we went to Michael Brenner, CEO of Marketing Insiders and Author of Mean People Suck. Challenging moments can present opportunities, and Michael gave us reasons why we may want to rethink our content marketing strategy.
What follows is brief recap of our discussion. A big "thank you" to Michael and our #CMWorld Twitter chat community for an insightful hour.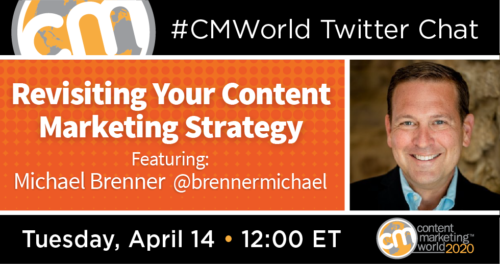 Should you pivot your strategy in light of recent events?
Is there a framework to follow when refreshing your content marketing strategy? How do you know what needs to change? What should you prioritize?
Are there foundational elements that should always be found in your content marketing strategy?
Once you have redeveloped your strategy, what are your next steps? How do you move on to activate it?
Ready to get started? Here are a few resources from Content Marketing Institute.
How to Develop a Content Strategy: Start With These 3 Questions (Click here)
7 Steps to Create a Helpful Interim Content Marketing Strategy (Click here)
The Evolution of an Award-Winning Content Marketing Strategy (Click here)
How has your strategy changed since the COVID-19 crisis started? Let us know.
For the next few months, CMI is making full-length Content Marketing World 2019 breakout sessions and keynotes available on our YouTube channel. No email. No fee. No strings attached. We hope this helps you as you revisit your content marketing strategy, hone your skills, and more.
Posted April 15, 2020 in: Event by Monina Wagner
---
UP