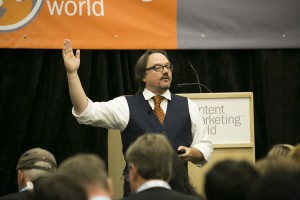 Every Thursday, a Scripted writer will recap a session from Content Marketing World 2014 that will be published here on the CMWorld blog. Find out more about Scripted by visiting their website.
All it takes is one step forward with enticing content to gain powerful momentum in your overall marketing strategy. But for those who don't know how to take that first step, Robert Rose — content marketing veteran and Chief Strategy Officer at the Content Marketing Institute — shared valuable tips at Content Marketing World 2014. He focused on content marketing frameworks, stressing the need for a solid strategy and an in-depth understanding from the players involved. Essentially, Rose asserts that a content brand must be its own entity, separate from the actual products of a company. It should be able to stand by itself.
In case you missed his presentation in Cleveland last September, here's how you can embark on your own content marketing mission:
1. Emphasize The Story Before The Medium
The medium is the channel through which your story is told: a blog post, video, white paper, slideshow, etc. However, the medium is largely irrelevant and should not be your primary concern. Rose explains in the first part of his presentation that the mediums naturally define themselves once the story is fleshed out. In other words, think about your idea in detail before immediately confining and labeling it "blog post."
2. Set Eyes On A Content Marketing Mission By Building a Team
Campaigns are short-lived and have a limited impact. They're designed to have a beginning, middle and end. Rose recommends a content marketing mission instead. Sure, it will require superior thought leadership, cross-team interactions and greater accountability, but the impact will be lasting. Get a team together who believes in the content, and only then begin considering the business aspects.
3. Make Content A Priority For The Business
What's the problem with running a blog? According to Rose, no one has time. It's "everyone's job and no one's job," and great content never gets off the ground. The solution? Designate teams to work within the appropriate content channels to make content a priority. Make sure they understand their goals and know their audiences
Rose names the three "Ps of Content Marketing" as: professor, preacher, and poet content. Is your content teaching others, or appealing to the emotions of your audience? Once content begins to serve a distinct purpose, reaching a massive audience is not necessary. Content only needs to have an impact on your audience.
4. Distinguish Yourself From Competitors
If you can easily imagine your content appearing under your competitor's logo, you have a problem. If you want to have a meaningful content marketing mission, companies must ask and then answer, How are we different? After that, you must make an honest assessment of your progress: Do you have something scalable and what's your next step?
If anything is to be taken from Rose's presentation, it's certainly the need for more deliberate, purposeful content and a strategy that answers the why before the how. Developing and implementing a content marketing mission sets the stage for brand loyalty. Rose's talk summarizes the changing tide of content marketing: If we want to be heard, read and seen, we have to ride that wave.
Read more from Robert in his latest blog post, The Search for Intelligent Content in the Universe, on the Intelligent Content Conference blog.
Scripted provides high-quality, original content for a flat rate with a set turnaround time. Post guidelines for what you need, and five days later you'll receive professionally written and edited content.
Posted December 11, 2014 in: Event by Scripted Writers
---