Content Marketing World is part of the Informa Connect Division of Informa PLC
This site is operated by a business or businesses owned by Informa PLC and all copyright resides with them. Informa PLC's registered office is 5 Howick Place, London SW1P 1WG. Registered in England and Wales. Number 3099067.
ROI of Branded Storytelling: A #CMWorld Chat with Jacob Warwick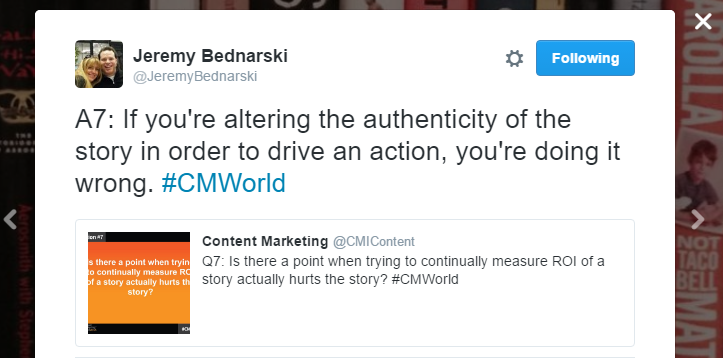 Branded storytelling is a term that is talked about a lot, but what is it? And can brands get a return from it? In our recent #CMWorld Twitter chat, Jacob Warwick, marketing strategist at Blast Analytics, led a conversation on branded storytelling.
A few highlights of the chat are below. Visit this week's Storify for even more great conversations on this topic.
There is a distinct difference between content marketing and brand storytelling, but they work hand-in-hand.
Showing value is important, but our community warns marketers not to become consumed by metrics.
ROI is an important topic on the CMI blog, including a great article by Jacob Warwick! Check out our Measurement & ROI Topic Page, sure to give you some great tips and food for thought on improving your content marketing measurement and improving your ROI.
Posted September 28, 2016 in: Event by Cathy McPhillips
---
UP