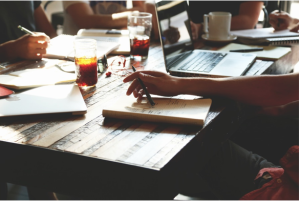 1. Face + Time = Relationships
We adore our online community. And adore is an understatement. We live in an online world, especially our industry, and face time with partners and prospective clients, partners, and even employers is becoming more and more rare in this digital age.
How many long-term business connections do you have with people you've never met, and wouldn't even recognize by their outdated social media avatars? Don't get me wrong – our world has been opened up because of technology. We have so many more opportunities.
But…we what's missing in online only is non-verbal communication, which can add so much nuance to a discussion and prevent misunderstandings. One-on-one meetings with industry peers provides influence, value and a "spark" that is unmatched. This live connection alone can serve as the basis of your company's competitive edge.
2. In-person events > transcripts
Trust me, I know this all too well, since most of the CMWorld presentations I've viewed the past two years have been on-demand or transcripts and not live presentations. I miss sitting in those rooms absorbing knowledge from the speakers. At CMWorld, the Q&A after presentations, sessions and informal meet-ups contain vast amounts of useful information beyond simple transcripts or recordings of these events. The biggest contribution is the exchange of ideas and sparks of innovative marketing approaches that emerge from two-way exchanges in real time. Go into detail on a fine point of strategy or take the conversation in an original direction based on new information. The only way to access these benefits is to be there. Travel time to and from the event give you a chance to prepare and organize your thoughts.
One of my favorite parts of #CMWorld 2015 was after our presentation, talking with some of the attendees who came up to chat after we came off stage. Those 15 minutes provided some of the most amazing insights and ideas – that I've actually put into action since then.
3. 2x the company presence = ½ the silos
Sending a team to CMWorld builds cohesion among the team members. It also assigns more listening skills and brain power for creative problem-solving. Sending more than one team member can break down departmental silos and align team tactics with corporate goals. Coordinating the learning from these different team members and/or teams can smash persistent barriers to growth and open up innovative thinking. When team members share in a powerful learning experience like CMWorld, the entire company gains operational efficiencies. And best of all, with 11 concurrent tracks each day, multiple team members means that more eyes can cover more ground at the convention center.
This fall, our 6th annual Content Marketing World will bring together some of the leading influencers in content marketing, analytics, customer engagement and motivation in the business world today. From building a solid social presence to the complexities of advanced marketing strategy and advanced ROI, the problems faced by most marketers have commonalities across industries. Seeing the issue from a different angle is often all it takes to find an innovative solution. In fact, the casual conversations that you spark with colleagues and industry peers in the off hours during CMWorld can be every bit as valuable as the sessions themselves. We can't wait to see you!
We're starting to populate all of the event details on the CMWorld website. Use the code BLOG100 to take $100 off all-access passes and main event registrations, and for 4+ attendees, please contact us so we can coordinate a deeper group rate for you. See you in September! 
Posted January 29, 2016 in: News by Cathy McPhillips
---