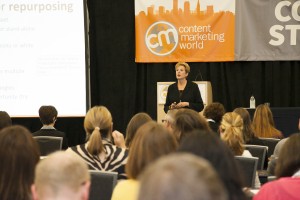 Every Thursday, a Scripted writer will recap a session from Content Marketing World 2014 that will be published here on the CMWorld blog. Find out more about Scripted by visiting their website.
If you're not producing enough content, or your current content isn't getting the job done, it's time to build and organize a powerhouse content library.
Ruth Stevens teaches graduate marketing courses at Columbia Business School and blogs for the Harvard Business Review. In addition, she's been named one of the 100 Most Influential People in Business Marketing by Crain's BtoB. In her Content Marketing World 2014 presentation, "Planning Your Content Library," she revealed that only 14 percent of businesses say that they're good at content marketing. The key to improving, Stevens says, is to design and organize a content library — and she's not talking about hard copy books. Here's how to become your own content strategy's librarian:
1. Analyze the Buying Process
A great content library begins with understanding your customers' buying process. Although the process varies by industry and market segment, most buyers identify a need, research different solutions, develop a shortlist for comparison and then ask for quotes or proposals. If they choose your company, the buying process doesn't stop with a single purchase. You have more opportunities, for example, when customers get ready to upgrade.
In addition to understanding their process, think about the different roles of people on the buying team. Influencers on the team, for example, might be looking for something that makes their workday easier. The purchasing agent, on the other hand, might want to save as much money as possible. The motives of each player determine the content they should receive. Other variables include the target industry, company size and the types of content that your buyers prefer to consume.
The best way to identify the buying process is to ask your customers about it. However, don't get married to your buying process model. Customers won't always comply with it.
2. Examine Your Library
Gather your current content assets (this is a great job for an intern) and list them on a spreadsheet by date of creation, author, and URL. Then, create multiple columns to examine your content from different perspectives. These columns could include format, marketing objective, target industry, buyer role, job function, market segment and buying process stage.
Once you've sorted and listed your content assets, look for gaps and then fill them in. If you're missing content in certain formats or have insufficient assets for specific buying process stages, then fill those empty spots as you create new content. As Stevens pointed out, your catalog becomes a monster spreadsheet. Fortunately, it's easy to manipulate and organize once you've entered the data.
3. Make It Efficient
Content marketing is labor-intensive, and Stevens offered two best practices to increase efficiency. First, she suggests balancing the difficulty of creation with effectiveness when creating new content. If creating an infographic is labor-intensive with low return on investment, create something else that's easier to make and more effective for your buyers.
Second, design your new content with an eye towards future repurposing. For example, transform blog posts into standalone documents, or convert e-books into multiple white papers or webinars. For visual content, shoot product photos from multiple angles and collect multiple types of video footage. When you decide to create new content later, you can pull from your archived visuals.
Conclusion
Companies often find, according to Stevens, that they have piles of existing content. However, the content has grown stale and needs an overhaul to remain relevant. In her presentation, Stevens recommended adding a column entitled "Freshness Indicator" to the spreadsheet. Many out-of-date content assets will live again with a quick refresh and repurpose.
Do you have tips for improving your content library? How do you make content creating more purposeful and efficient? Share your thoughts in the comments, and read more on why CMI thinks efficiency will include intelligent content.
Scripted provides high-quality, original content for a flat rate with a set turnaround time. Post guidelines for what you need, and five days later you'll receive professionally written and edited content.
Posted February 5, 2015 in: Event by Scripted Writers
---