Content Marketing World is part of the Informa Connect Division of Informa PLC
This site is operated by a business or businesses owned by Informa PLC and all copyright resides with them. Informa PLC's registered office is 5 Howick Place, London SW1P 1WG. Registered in England and Wales. Number 3099067.
The Science of Storytelling: A #CMWorld Chat with Joe Lazauskas
Scientists have found good stories produce oxytocin in our brains. So how can marketers take advantage of this? To find the answer, we went straight to Contently Executive Editor and Director of Content Strategy Joe Lazauskas. Joe is the co-author of the book, The Storytelling Edge. He joined us for a recent #CMWorld Twitter chat. What follows is a brief recap. For more tweets from the discussion, visit our Twitter Moment.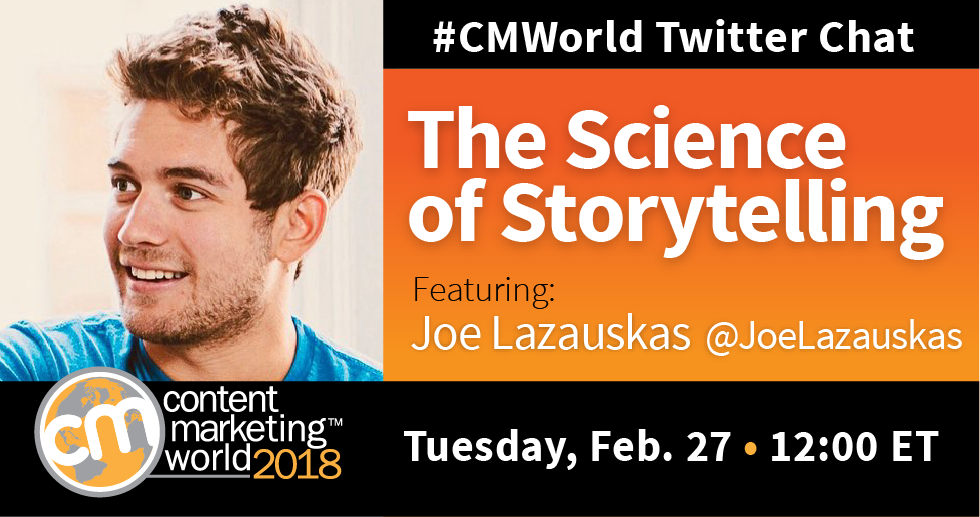 Why are people so cognitively responsive to stories?
Marketers must provoke curiosity while remaining true to its brand message. How can we balance both?
To dive deeper into the science of how stories affect our brains and how that can improve our content, check out "The Storytelling Edge", a new book by Joe and his co-author Shane Snow.
And if you have a topic suggestion for an upcoming #CMWorld Twitter chat, let us know in the comments below.
You have a unique story to tell. Learn how you can best share it when you attend Content Marketing World. Register with code SM100 to save $100 at checkout.
Posted March 1, 2018 in: Event by Monina Wagner
---
UP