Content Marketing World is part of the Informa Connect Division of Informa PLC
This site is operated by a business or businesses owned by Informa PLC and all copyright resides with them. Informa PLC's registered office is 5 Howick Place, London SW1P 1WG. Registered in England and Wales. Number 3099067.
Secrets of the Most Shareable Content: A #CMWorld Twitter Chat with Bethany Chambers
I think many marketers will agree: The word "viral" needs to die. I'm amazed at how much the word is still used. Going viral may not a tactic for your content marketing, but that doesn't mean your content can't reach the masses. It just takes some work.
This week on the #CMWorld Twitter chat, North Coast Media's Bethany Chambers gave her secrets for creating shareable content. She and our community tossed around ideas – some tried and true, others innovative and worth trying.
Read on to discover all of fantastic insights we heard during the chat. And be sure to catch our weekly chat every Tuesday. We discuss various content-related topics with marketers from around the world!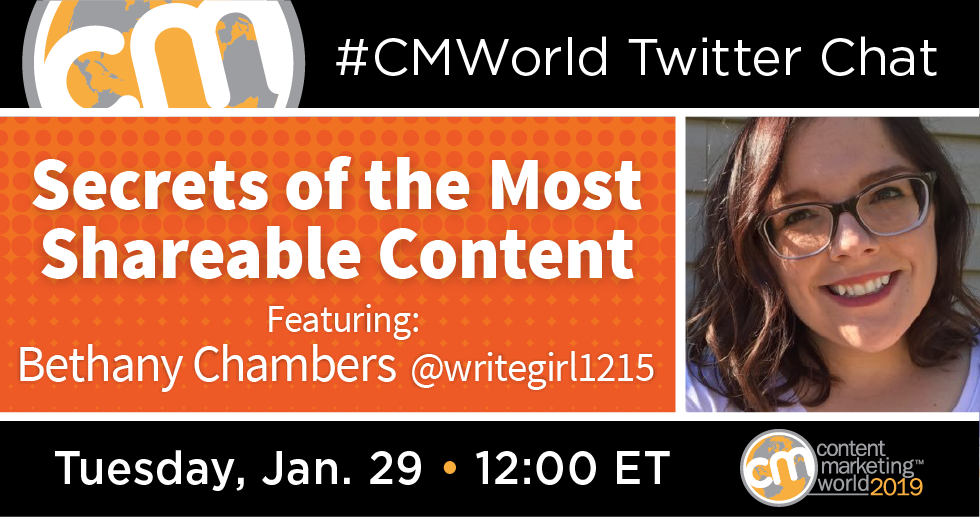 What are some characteristics of shareable content?
See more answers to this and other questions in our Twitter Moment
Creating content in chunks is a good way to maximize the value of your work. How can you find your best performing content? What kind of deliverables can be made from it?
See more answers to this and other questions in our Twitter Moment.
Want in on one more secret? Bethany ended up in Twitter jail during the chat. That's a #CMWorld first!
How do you generate more shares for your content? Do you have a secret? Leave your thoughts in the comments below.
Did you produce a powerful piece of content last year that your audience couldn't help but share? Then consider entering it in the 2019 Content Marketing Awards. We are now accepting nominations in 85 categories!
Posted January 30, 2019 in: Event by Monina Wagner
---
UP