Welcome to your weekly CMWorld recap. Today, we reflect on how little surprises can bring joy to our community.
Inside the CMWorld Studio
Does your funnel look a bit like this? Sarah Goodall calls it digital ping-pong.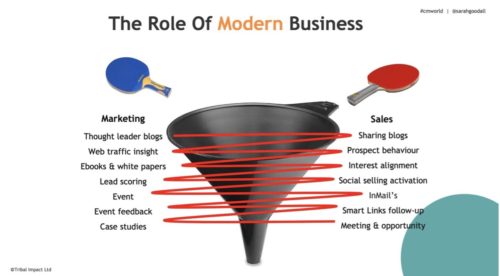 You may not know it, but developing smarter social media strategies can help you win this game. Social media sets you up to gain more accurate, measurable, and actionable insights. On this CMWorld Studio: Social Media, we heard from Sarah, Andy Crestodina, and Brooke Sellas. How important are metrics? If Andy was stranded on a desert island, he says he could survive with two Google Analytics reports. You'll have to watch to find out which reports they are.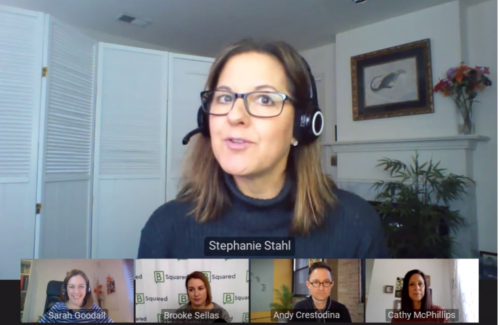 The CMWorld Studio: Social Media is now being presented on-demand.
Twitter Chat with Cathy McPhillips
Did you know social media at CMI was once managed by a team of one? That may shock you, but it will be no surprise that it accomplished by the great CMI VP of Marketing Cathy McPhillips. We explore the dilemma many marketers face: If you're juggling other responsibilities, how do you decide what's most important to focus on when it comes to social media?
You can see all of the tweets from our conversation with Cathy here.
Beyond the Chat
We marked Cathy's first appearance on Beyond the Chat talking a lot about food. We were amazed to hear Cathy can make a perfect ice cream swirl, but she's not a dessert fan. For a live show twist (no pun intended), we ask Cathy to reflect on the past with a few friends.
It should come as no surprise that we here at CMI have your back. Let us help you make the big decision to attend this year's Content Marketing World easy. Choose from one of the available ticket options then match it with our flexible cancellation policy. Maintain confidence in your purchase knowing we'll be here to lend a hand!
Posted February 19, 2021 in: Event by Monina Wagner
---