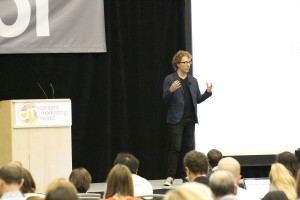 Every Thursday, a Scripted writer will recap a session from Content Marketing World 2014 that will be published here on the CMWorld blog. Find out more about Scripted by visiting their website.
Kevin Spacey wasn't the only one advocating original storytelling at Content Marketing World 2014. Shane Snow — esteemed writer, author and co-founder of Contently —also spoke about the significance of storytelling in content marketing. The former journalist touched on what works and what doesn't, in addition to how understanding the mechanics of storytelling is crucial to the success of any marketing campaign. Here's what we learned:
1. Great Stories Make Us Care
It's a plain and simple concept, but the execution of a great story isn't as simple as it may sound. Snow uses the example of two signs that a homeless man might hold up on a street corner: one evokes empathy and a generous outpouring of donations while the other has little effect on those passing by. While the factual sign, "Blind man without a pension," has no emotional impact on others, the sign that drives understanding has a profound impact says: "Spring is coming, but I won't see it."
The second sign is far more meaningful and gives people something to stop and ponder. It creates connection, empathy, and a desire to act — all things that quality storytelling also yields.
2. We're Biologically & Culturally Programmed For Stories
Storytelling is often thought of as a hobby or an art form. Only recently has the process of storytelling been lifted up as an effective method for businesses to strengthen and build relationships. Our tendency to be impacted by a profound story is actually more deeply ingrained in us than we may realize.
Snow uses the example of patriotism, a paradoxical phenomenon that allows us to feel a sense of pride and connection to people we've never met. These feelings are made possible through storytelling. The historical victories of George Washington and Abe Lincoln give us the impression, whether real or imagined, that we are somehow connected to them in a meaningful way.
Biologically, we can think of storytelling as an ancient survival technique. Humans would warn others of what dangers they had encountered, creating an undeniable bond between groups that looked out for each other.
But what on earth do these examples have to do with content marketing? At the core of every great story is an emotional connection between the listener and the storyteller. In content marketing, that storyteller is you, and your target audience is your listeners — listeners who may become dedicated customers, partners or whatever role you'd like them to occupy.
3. Don't Just Tell ANY Story
Humans are designed to discern between truth and fiction; a good story and a questionable story. Creating content that simply aims for shock value, exaggerates, or tries to play on the reader's emotions are all shortcuts that won't have the desired impact. In these cases, most readers will sense the ingenuity of your message and find it off-putting. This could easily damage a brand's reputation and foster disinterest within your target audience. Instead, content should be honest and thought-provoking.
Gone are the days when storytelling was just for the campfire. Today, storytellers come in various forms and communicate through a variety of mediums. Business owners, journalists, nonprofit directors, and anyone with an internet connection can serve as a storyteller.
Essentially, Snow discourages a common, ineffective marketing habit: tossing out content at random and hoping something "sticks." Instead, he offers a clarifying solution: tell the story that engages your audience, reveals who you are, and invites them to maintain that connection.
Listen to Todd Wheatland's interview with Andrew Davis on Todd's podcast, The Pivot, where Andrew reveals some inspiring storytelling strategies.
Scripted provides high-quality, original content for a flat rate with a set turnaround time. Post guidelines for what you need, and five days later you'll receive professionally written and edited content.
Posted February 12, 2015 in: Event by Scripted Writers
---