This week, I celebrated my 10th anniversary on Twitter. A friend actually scoured the internet and found my first tweet. (Thanks,Martin.) And I wasn't surprised to see the post related to my role as a mom.
For the last decade, Twitter has proven to be an incredibly powerful platform. I have made real-life friends, connected with people in my neighborhood, built strong relationships with peers, and learned a lot about content marketing. I did this while maintaining one Twitter account.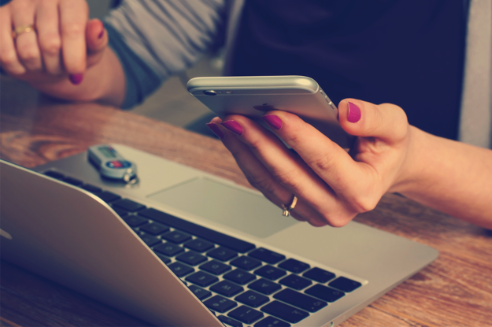 (photo credit: Wilfred Iven)
Balancing my personal and professional lives on social media can be challenging as a community manager. I don't want to share something work-related that may bore some of my followers. But I don't want to lose who I am; and that includes being "mom."
So I turned to the CMI community. Actually, CMI turned to the community, because the question was asked from the Content Marketing Institute Twitter handle.
Do you have separate professional and personal Twitter accounts?
We got a lot of great comments, and the responses varied. So should you consider having two accounts? The verdict: It depends.
When deciding what's best for you, here are some considerations suggested by our community.
Are you looking to connect your brand to your audience on social media? If you're reading this post, then I'm going to assume you're a communicator like me. I'm guessing your brand – personal or professional – has struggled at some point to connect one-on-one with your audience. Twitter gives us the ability to do so by being human online. It gives followers the opportunity to learn about other facets of your life. Introduce family and friends to your work. Conversely, consider engaging professional contacts in a lively conversation about nachos.
Are your tweets relevant to your followers?It's important to become familiar with what your audience wants. Don't alienate them. Instead, streamline their newsfeed with the content they crave.
Are you aware of sensitive topics?Reflect on what you post and how personal you're getting. Especially in this day and age, it's important to remember Social Media Rule #1: Think before you post. If you don't want your professional connections to see what you post, a second Twitter handle may be the way to go.
Do your followers know about your diverse interests?Mine do. My Twitter bio describes exactly who I am, so they expect posts about basketball (come back to Cleveland, LeBron!) and my daughter's love of musical theatre. And when I think about it, I've learned a lot about CMI's followers through their bios.
Side note: Other community members admit sharing outside hobbies and activities on social media. But they would rather not blur the line. So they choose to take those posts to other platforms.
What about you? How many Twitter handles do you maintain? Let us know in the comments below.
Looking to put Twitter to good use? Attend our weekly #CMWorld chat, where we invite a special guest to discuss various content marketing topics. We tweet every Tuesday at 12pm Eastern. Come join us!
Posted November 6, 2018 in: Event by Monina Wagner
---