Content Marketing World is part of the Informa Connect Division of Informa PLC
This site is operated by a business or businesses owned by Informa PLC and all copyright resides with them. Informa PLC's registered office is 5 Howick Place, London SW1P 1WG. Registered in England and Wales. Number 3099067.
Social Media and Customer Service:: A #CMWorld Chat with Amanda Changuris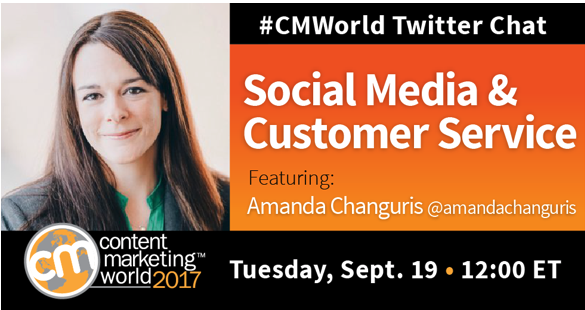 Social media managers are often on the front line when it comes to assisting customers. But what happens when the volume and complexity of concerns outpaces what your social media teams can handle? Amanda Changuris took to the #CMWorld community, making her case for customer service teams to handle brand social media services.
What follows is a recap of the chat. For more insights from Changuris and other participants, check out our Storify.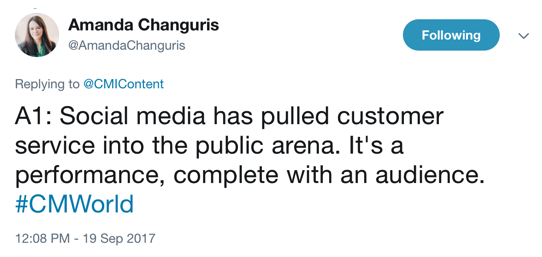 Know when to make a change
Customers expect brands to be easily accessible, and they want quick resolution. It then becomes a brand's responsibility to structure staff for rapid response. But how do you know when it's time to hand off social care to customer service teams?
Have a framework in place
Social media has made customer service everyone's business. And the right technologies and processes can help any organization make the transition easier.
What brands are doing customer service right? Let us know your favorites in the comments below.
Looking to strengthen your customer service with content? Then continue the learning and sign up for Content Marketing University! Fall registration closes September 30th, so don't delay!
Posted September 21, 2017 in: Event by Monina Wagner
---
UP