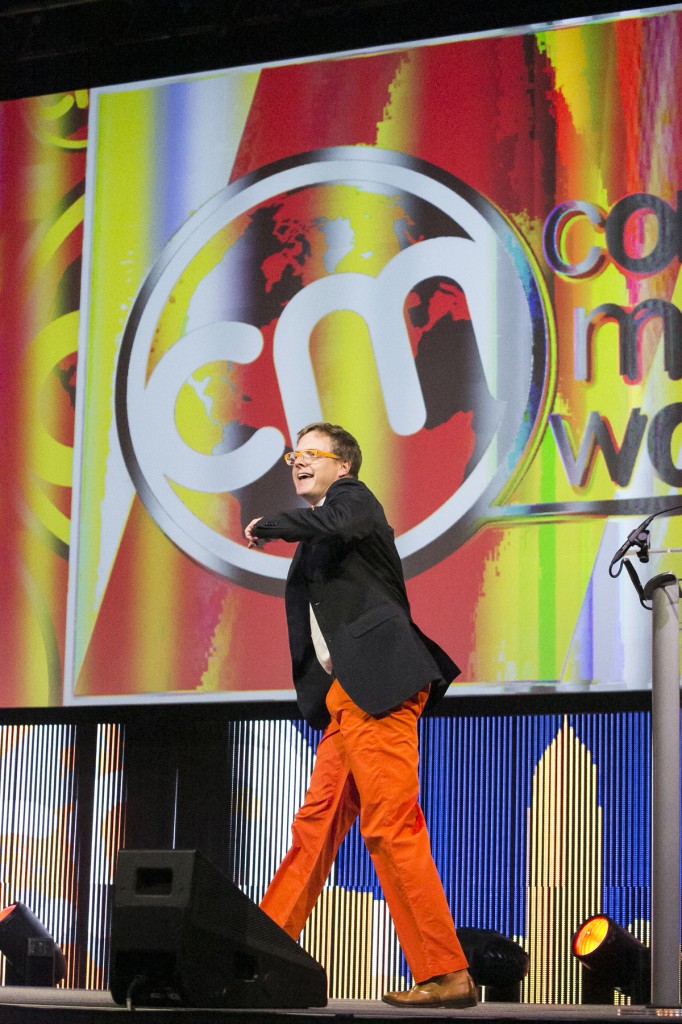 How many times have you been to an event where one speaker just blows your mind? Where you leave inspired, reenergized, smarter and happier than when you sat down to listen? Where you put down your devices for virtually the whole presentation because you don't want to miss a word or a move the speaker makes?
If this hasn't happened to you, then you haven't seen Andrew Davis live and in person.
Fortunately, Andrew is returning to Content Marketing World 2015 for a fifth consecutive year, after being the top-rated speaker at CMWorld 2013, and a keynote at CMWorld 2014.
What does 2015 have in store for our attendees?
We can't tell you all our secrets yet, but suffice it to say, "great storytelling isn't easy, but if done well, it can be more powerful and motivating than any other kind of content." And it should come as no surprise that this quote comes from Andrew Davis himself.
We are so looking forward to seeing him on stage again, but let's look back on a few important lessons from Andrew in 2014:
Davis offered "four simple truths to creating moments of inspiration" that the Plain Dealer's Janet Cho captured in her keynote article:
1. "Build suspense: Create anxiety about what will happen." Davis quoted British playwright William Archer, "Drama is anticipation mingled with uncertainty." Breville, an Australian maker of high-end juicers, decided to sponsor a Netflix series called "Fat, Sick and Nearly Dead," about an obese man trying to lose weight. When it started airing, people were inspired, and Breville's Juicers sold out worldwide. "Ask yourself, 'Is there inherent suspense in the story I'm telling?'" Davis asked.
2. Foster Aspiration: DCVelocity.com, a specialized website for logistics and distribution centers, started posting "Move It," half-hour shows that take viewers on a factory tour. The show has not only spurred sales of belt sorters and other specialized equipment shown in its episodes, it has also been picked up by Japanese public television. "Ask yourself, 'What does my audience aspire to do or be?'" he said.
3. Drive Empathy: "In 2011, as IBM was transitioning from a manufacturer to a service provider," it created a robot named Watson who could play "Jeopardy!" and challenged it to beat two human trivia champions. IBM found out that viewers not only cheered on the robot, they felt bad when it missed a question.
IBM created content around it ("The Audacious Quest that humanized the machines"), and Nova created a PBS special called, "The Smartest Machine on Earth." After the special aired, IBM started getting more calls asking for its expertise, and its revenues surged 20 percent in a single quarter. Watson has gone on to create recipes for a food truck and has been asked to predict fashion trends. "Watson proved he could maybe beat Google at the end of the day," Davis said.
4. Harness emotion: "When you harness emotion, you inspire people to act," Davis said. When a Danish TV show called "Arvingerne [the Legacy]" showed the heirs of a matriarch squabbling over her inheritance, viewers started calling lawyers about creating wills and estate-planning.
"What emotion inspires action as it relates to the product or service we provide?" Davis asked. "Those are the things that are going to make a big impact."
Join us at Content Marketing World 2015 so we can help you make your impact. Andrew will be back to help make this happen.
Register for Content Marketing World today to take advantage of the best rates available! Super early bird rates end on 2/28/15. Plus, use CMI100 for an additional $100 off of these rates! 
Posted February 18, 2015 in: Event by Cathy McPhillips
---