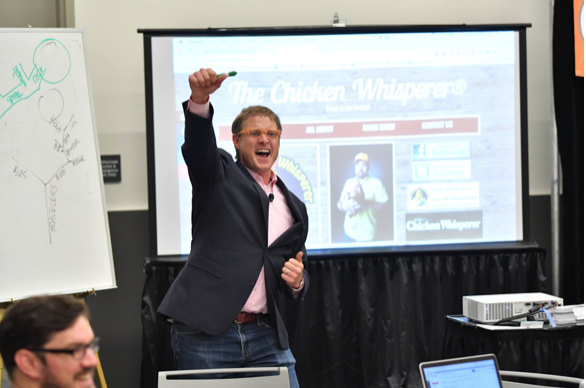 In case you're happening upon our website for the first time and wondering "What is Content Marketing World?" Visit our homepage of the website to find out even more. And we hope to see you September 5-8, 2017 in Cleveland! Registration is now open as well! 
For those of you more familiar with us, it's incredible to us that our 2017 conference and expo is already open for registration. But before the big event, we invest months creating a great week for our attendees filled with the best speakers and content marketing practitioners in the business.
And that's where you come in.
Are you leading content marketing at your brand? Is your agency creating epic content for your clients? We want to hear your stories, and give you the platform to share your stories with our community. And our community is ready to listen and learn.
In our first Call for Speakers blog post, Joe talks about the WHATS for your speaker submissions. Go ahead, take a minute and open that link – it's a quick but important read.
But now I'd like to talk about the HOWS. I had the pleasure of interviewing Tamsen Webster, Executive Producer of TEDx Cambridge, and she gives some fantastic advice about public speaking, why it's important for thought leadership and marketing, and some eye-opening facts about even the best public speakers.
This was one of my favorite parts of the interview:
If you plan your talks as if you didn't have any visual supports two things happen. One, you automatically simplify the talk. You simplify it to a point where people can actually process it. We put so much information into our slides that we are killing people's ability to absorb any of it. We like to bury ourselves in these statistics that visual information helps people retain knowledge. That's true if it's a single thing – not 78 slides over the course of 45 minutes. You are battering people with information that they cannot absorb.

Without the slides, you automatically simplify. If I don't have a slide to show you then I have to think about how to talk about this in a way that you can picture it in your head. The process is like building a house. First you lay a foundation, which is essentially your domain of authority, what you're passionate about, and what problem in the world that you can solve. Then you begin to frame out the house.
But…but…it's not that easy. Slides do have a reason and a place. Read more of my interview with Tamsen for more great advice.
So, now with two articles to read, your third item on your to do list is to submit your presentation to speak at Content Marketing World 2017. It's due Monday – NO EXCEPTIONS! – so pull some of your old work together, along with your idea and video, and send it in by December 12.
We look forward to reviewing your work!
Questions? Leave us a comment and we'll get back to you ASAP! And not ready to submit your presentation but you're interested in attending? We'd love to have you. Registration is now open – and the best rates are available until December 31, 2016!
Posted December 9, 2016 in: News by Cathy McPhillips
---