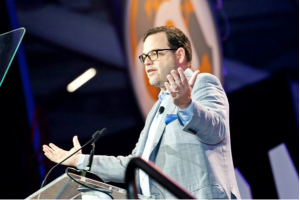 An open letter to all marketers:
Wouldn't you like to create marketing so useful people would actually pay for it? Sure you would. We all would. And if that sounds impossible, you haven't been listening to the right people.
More specifically, you haven't been listening to Jay Baer.
An inspiring author, speaker and tequila aficionado, Jay has been handing out worthwhile advice that any marketer worth her salt should be following since the beginning of time (well, at least since the beginning of digital marketing).
And, while his latest book brilliantly prompts all of us marketers to Hug Your Haters, his marketing insights didn't begin there.
Prior to HYH, Jay's New York Times best-selling book Youtility implored those of us who are marketers to stop trying to be amazing…and just be useful. He reminded us that the difference between help and hype is just one letter, but oh how important that letter could be.
And he introduced us to Taxi Mike, which may be one of the best content marketing case studies of all time.
Perhaps most impressively, my fellow marketers, Jay has practic­ed what he's preached all along the way. He hasn't limited himself to thinking small – "Give yourself permission to make the story bigger," he would say – and he's marketed his own marketing in a wide variety of ways:
According to the Content Marketing Institute, Jay's Convince and Convert blog is one of the top content marketing blogs in the world; it's visited by 250,000 marketers each month
He operates several successful podcasts, including the seminal Social Pros podcast
He ran a daily video blog called Jay Today
And, of course, he did all of this while consulting with brands large and small and speaking at about 60 events each year
He's worked with The United Nations, for Pete's sake!
I would also remind you, my friendly marketers, that Jay also makes use of great statistics to drive his point home. Remember these gems?
80 percent of companies say they deliver exceptional customer service; 8 percent of customers do
Brands spend $500 billion on marketing and just $9 billion on customer service
A 5 percent increase in retention can increase profits 25-85 percent
95 percent of dissatisfied customers never mention it to the business they're dissatisfied with
And, ironically, he notes, you can now use big data to not treat customers like a number
Want to understand why the customer may not always be right, but always deserves to be heard?
My dear marketers, you need to be listening to Jay Baer.
You can follow Jay on Twitter, check out his website over at Convince and Convert, or connect with him on LinkedIn.
Jump on over to the Content Marketing World 2016 registration page now to learn more about Jay and other CMWorld 2016 speakers! Registration is now open, and code BLOG100 will save you $100!
Posted January 21, 2016 in: Event by Mike Myers
---