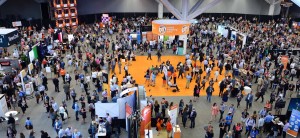 One of the best parts of our marketing conference each year is our expo hall, filled with dozens of tools, technology and service partners, ready to meet and engage with attendees. Not only are these companies poised to offer the best products and services to attendees, they're also prepared with the best marketing materials and team members around. They make it look easy, but it's not. Preparing your booth for a conference takes time and thought. Every few weeks, we'll offer up some tips here on the Content Marketing World blog on how to maximize your booth space and event presence.
Right Audience, Wrong Activity
You've come across a sponsorship that seems like a perfect fit. One of your marketing goals for the year is to get in front of CMOs for national brands. You've been pitched a sponsorship by an event organizer that includes an exhibit table at an event that is attended by CMOs of national brands. It also includes native advertising in their newsletter that reaches that same audience. It's the perfect opportunity, no?
Maybe not. The native advertising is a great fit, and you have the perfect thought leadership piece that would be appealing to your desired audience. The exhibit table may not be so perfect. How often have you come across CMOs who want to speak to a field sales rep and sit through a demo of your software? CMOs pass on this type of activity to the marketing managers who report to them. So, while your sales rep is manning your table at the event, the CMOs are spending their time talking to other CMOs over coffee and a danish.
That doesn't mean you should back away from the sponsorship. You just need to approach it differently. Instead of sending a sales rep to the event to demo your product, send your CMO to discuss the findings of a study you commissioned on how brands are spending their digital marketing budgets. Or, you could send your CIO and hang a big sign on your table that says, "Ask me how marketing and IT can work together better."
Don't throw the baby out with the bathwater. Instead of doing what everyone else is doing, ask your target audience what kind of conversation or activity would be valuable to them.
Sponsorship Bundle
Sponsorships can often work like advertising in that, the higher the frequency, the better the deal. Smart marketers work with other departments in their company to leverage the best sponsorship opportunities. For example, you may know your company is expanding and looking to hire new recruits. You've also been presented the opportunity to sponsor a webinar that fits your marketing goals.
Ask the sponsorship salesperson if they have any events, newsletters or areas on their blog that attract people who may be looking for jobs in your space. If they do, work with them to create a special deal for a bundled sponsorship for two completely different activities and audiences. A bundled sponsorship is smart for the marketer because you will often get a better deal the more involved you are. But that's not the only savings.
Part of that sponsorship fee can come out of HR's recruiting budget. Instead of tossing out a wide net and hoping to get a handful of decent candidates, you would be recruiting candidates that have been pre-qualified based on a common interest in your particular field.
These candidates also show a willingness to continue their education by viewing an educational webinar, increase their value by listening to a podcast, or reading up on a topic in which they are interested in learning more.
The key to creating a sponsorship bundle is meeting quarterly with other departments to understand their goals, and to ask the sponsorship sales person what else they may have up their sleeve.
Traci Browne, Author of The Social Trade Show
Are you ready to take the leap and consider a sponsorship at Content Marketing World 2016? There are many great options available, and we'd love to see you this September. Visit our website for sponsorship opportunities and contact information.
Posted January 6, 2016 in: Event by Cathy McPhillips
---