Content Marketing World is part of the Informa Connect Division of Informa PLC
This site is operated by a business or businesses owned by Informa PLC and all copyright resides with them. Informa PLC's registered office is 5 Howick Place, London SW1P 1WG. Registered in England and Wales. Number 3099067.
The State of Content Marketing: A #CMWorld Chat with Joe Pulizzi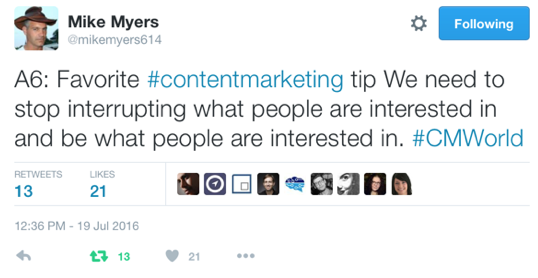 Our recent #CMWorld Twitter chat marked a milestone: 150 chats! Joe Pulizzi joined today's chat to celebrate and to lead a conversation focused on our favorite thing: you. Thanks for spending time with us on Tuesdays and sharing your ideas. This is seriously one of our favorite hours of the week. What we loved most of all? Seeing our community – an incredible group of smart and kind contributors – who each bring value to our special hour each week.
A few highlights of the chat are below. Visit this week's Storify for even more great conversations on this topic.
Let's start at the beginning: How have these chats helped you grow? For many, it's personal. 
Looking ahead, what could we cover that would help you? We LOVED these answers, and can't wait to fill our fall and winter chat calendar! 
Wow – you all keep us on our toes! What awesome ideas. And that's just a handful! We can't wait to see what the rest of the year has in store for our chats. See you next time, same time, same place! (12pm Eastern on Tuesdays, for those of you that are new!)
Here's to 150 more chats, friends! And in the meantime, let's have that big reunion in Cleveland this September. What do you say? Join us at Content Marketing World this September. Use code BLOG100 when you register to save an extra $100.
Posted July 20, 2016 in: Event by Cathy McPhillips
---
UP