Content Marketing World is part of the Informa Connect Division of Informa PLC
This site is operated by a business or businesses owned by Informa PLC and all copyright resides with them. Informa PLC's registered office is 5 Howick Place, London SW1P 1WG. Registered in England and Wales. Number 3099067.
How to Succeed as a New Leader: A #CMWorld Twitter Chat with Gene Petrov
Can you be a "natural born leader"? Our community members don't think so. They believe leaders are made, and that it takes much more than good genes to become an effective leader. There must be growth from past experiences and learned skills.
We wanted to dive into this topic more so we invited Gene Petrov to the #CMWorld Twitter chat. Gene has over two decades of leadership experience, including roles in the U.S. Air Force and corporate organizations. He shared there are several things to consider if you want your leadership to be impactful.
Below is a brief look at what he – and our community – had to say.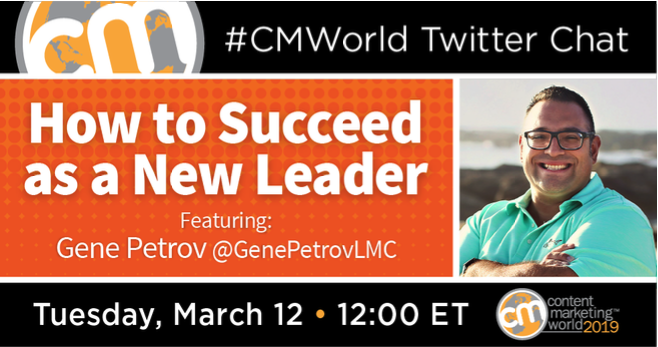 How have the roles and responsibilities of marketing leaders changed over the years? Do leadership qualities shift when these changes take place?
See more answers to this and other questions in our Twitter Moment.
As Simon Sinek asks, "how can great leaders inspire action?"
See more answers to this and other questions in our Twitter Moment.
When you hear "visionary leader," who comes to mind? We'd love to hear from you. Share in the comments below the individuals you admire.
Do you lead a team committed to the creation of outstanding content? Then this is your time to shine. We are accepting entries for the 2019 Content Marketing Awards!
Posted March 13, 2019 in: Event by Monina Wagner
---
UP