We know sustainability is important to our attendees and exhibitors, as well as our community as a whole. Not only are we committed to running our event in an environmentally and socially responsible way, we also want to inspire the sustainable development of the industry we serve.
Content Marketing Institute, Content Marketing World, and our parent company, Informa, have worked hard to make sure that our conference goers and sponsors have a great experience at our event, while leaving as small a footprint as possible.
Our Goals
Inspire sustainable development
Run an environmentally responsible event
Create a socially responsible event that is inclusive and accessible
Here are some things we are doing:
Environmental Help
Goodbye to the Printed Program Guide: Each year we have cut down a little more on the number of pages in our guide and printed it on 100% recycled paper. This year, we are relying solely on a mobile app to display the agenda, the special events, and other important information. Besides saving a lot of trees, the app will allow you to connect with in-person and virtual attendees and sponsors in meaningful ways.
Name Badges: Once again, we will be printing badges on a heavy paper stock that will eliminate the need for plastic sleeves. However, if you do love having that sleeve to hold business cards and such, plan to reuse one you have at home or in your office and pack it in your suitcase. We'll have recycling bins in the registration area for you to discard your badge before you leave. It's okay, too, to take it home and hang it on a bulletin board with all your other badges!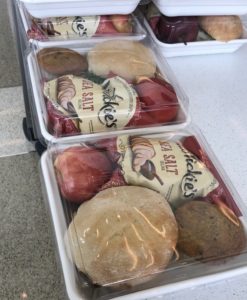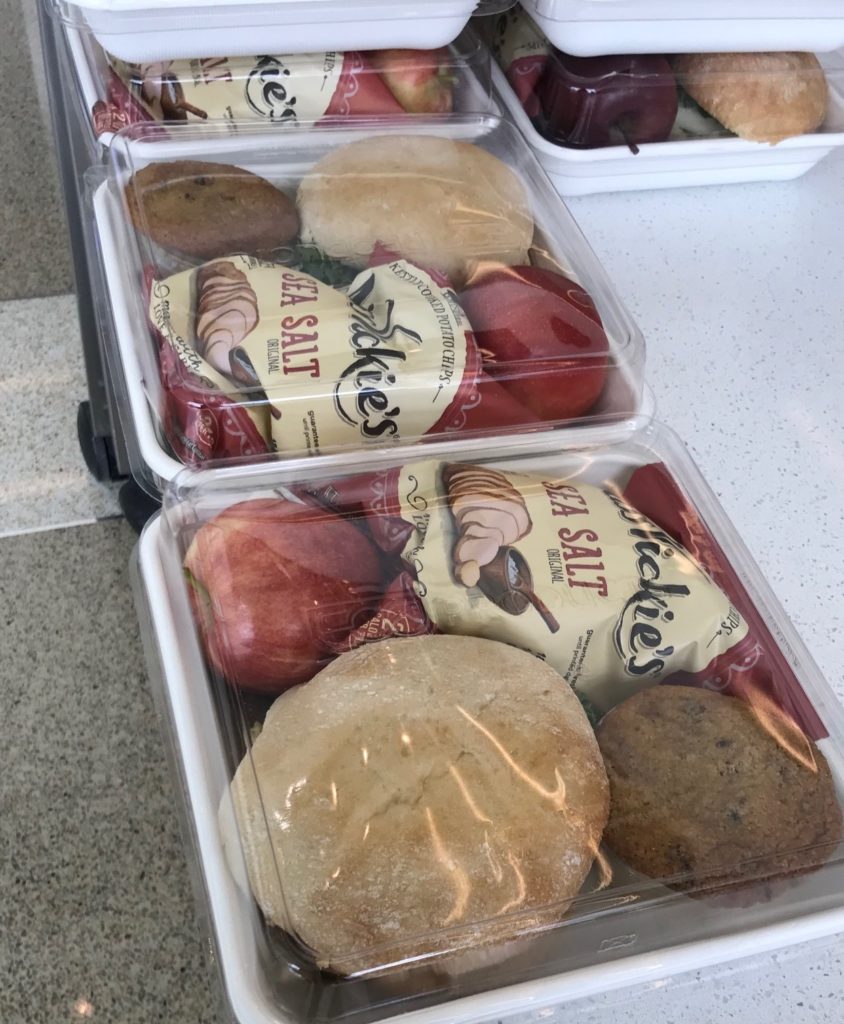 Water Stations: Plastic disposable water bottles will not be distributed at the event. We'll have water stations/bubblers set up all over the convention center for our attendees to fill up a cup. Consider bringing a favorite water bottle from home to help you stay hydrated all week. This has saved literal metric tons of plastic from being used at the convention center, and we thank you for that. Our lunch containers are also made from 100% post-consumer recyclable materials and are compostable.
Sponsor Materials:  Our sponsors are behind us all the way when it comes to saving the planet. Instead of printed seat drops and handouts, they will provide valuable materials via a digital conference bag on the mobile app and virtual desktop platform.  Booth giveaways have also become smarter, more functional, and more earth friendly.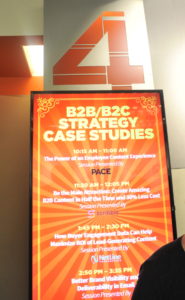 Signage: We have largely moved to digital signage throughout the convention hall and have, in some cases, repurposed signage from our 2019 event. For any signs that we need to reprint, we're doing without a year or theme (so we can reuse in subsequent years). We are also using a recyclable cardboard substrate vs. foam core.
Donations of Signage: Any leftover signage this year will be donated to local Lakewood High School's art department for creative re-use. Over the past few years, a grade school in Lakewood, Ohio University, and Kent State University have all been recipients of our materials. We are always happy to support the future generation of artists, content creators, and marketers!
Locally Sourced Meals: All catered food is being locally grown and sourced. Even some of the eggs and honey come right from the urban farm located at the convention center.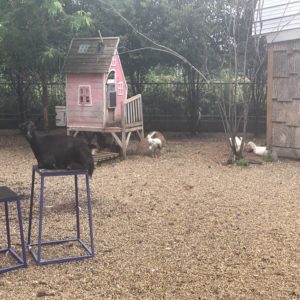 Leftover Food Donations: As part of the Levy Cares initiative through Levy Restaurants, any leftover food from the convention center will be donated to the Ed Keating Center, a Cleveland-based, non-profit with three sober living facilities serving approximately 150 men and women at a time.
Electronic Evaluations: Rather than fill out a paper eval after each session, we're asking attendees to visit the mobile app for on-the-spot speaker evaluations. We'll be donating $1 to the Greater Cleveland Food Bank for every evaluation submitted, up to $2500. See more below for our fundraising initiatives.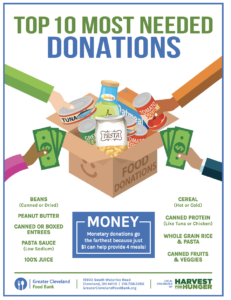 Fundraising
This year, we'll be asking attendees to help us feed families in Northeast Ohio, many of whom have faced extraordinary hardship during the pandemic. We'd be grateful if you could pack one of the Top 10 Items needed in your suitcase or make a monetary donation on site and we'll do the food purchasing for you. For our virtual attendees, you can also help by making a monetary donation here.
Once again, we are also partnering with The Orange Effect Foundation. OEF's mission is to ensure children with speech disorders receive the speech therapy and technology they need. Because OEF is helping children communicate more effectively, we couldn't think of a better cause for content marketers to get behind. And aside from that, our CMI founders also founded OEF, some CMI team members are board members and volunteers, and many in the #CMWorld community are donors and advocates for the cause. Please visit our digital bookstore and use OEF's Amazon Smile page to make purchases or donate onsite to this great organization.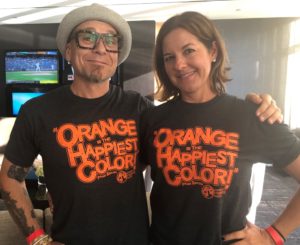 Local Support
Everybody likes swag! We've got some cool stuff to share, and we are sourcing it from local vendors, including T-shirts, water bottles, etc. This saves on shipping/transportation and helps support our friends in Ohio.
Like our fun and engaging videos? Appreciate the expert audio-visual talent? Our visual storytelling efforts are provided by talented Ohio-based teams, including NPi Audio Visual Solutions, Purple Films and OnScene Productions.
Accessibility
Are you a new mom who needs a private space for nursing? We will have two pods located in the convention center for you and a refrigerator for storing milk.
Neutral bathrooms are available on both floors of the convention center.
Multiple elevators are available in the convention center and accessible seating is available in all session rooms.
Special meals for those with dietary restrictions are available (please let us know your needs on your registration form)
The recorded sessions will feature closed captioning. Viewers can click on the CC button in the lower right corner.
To learn more about sustainability at Informa and some tips on how you can help, please check out our sustainability page on our website. We welcome your ideas on how we can improve!
We hope that you appreciate these changes and that you'll still have the same epic experience you've had and that you expect each time you're with us. Thank you!
Still not registered? There's still time! Visit the registration page and use code SM100 to save $100 off your pass.S