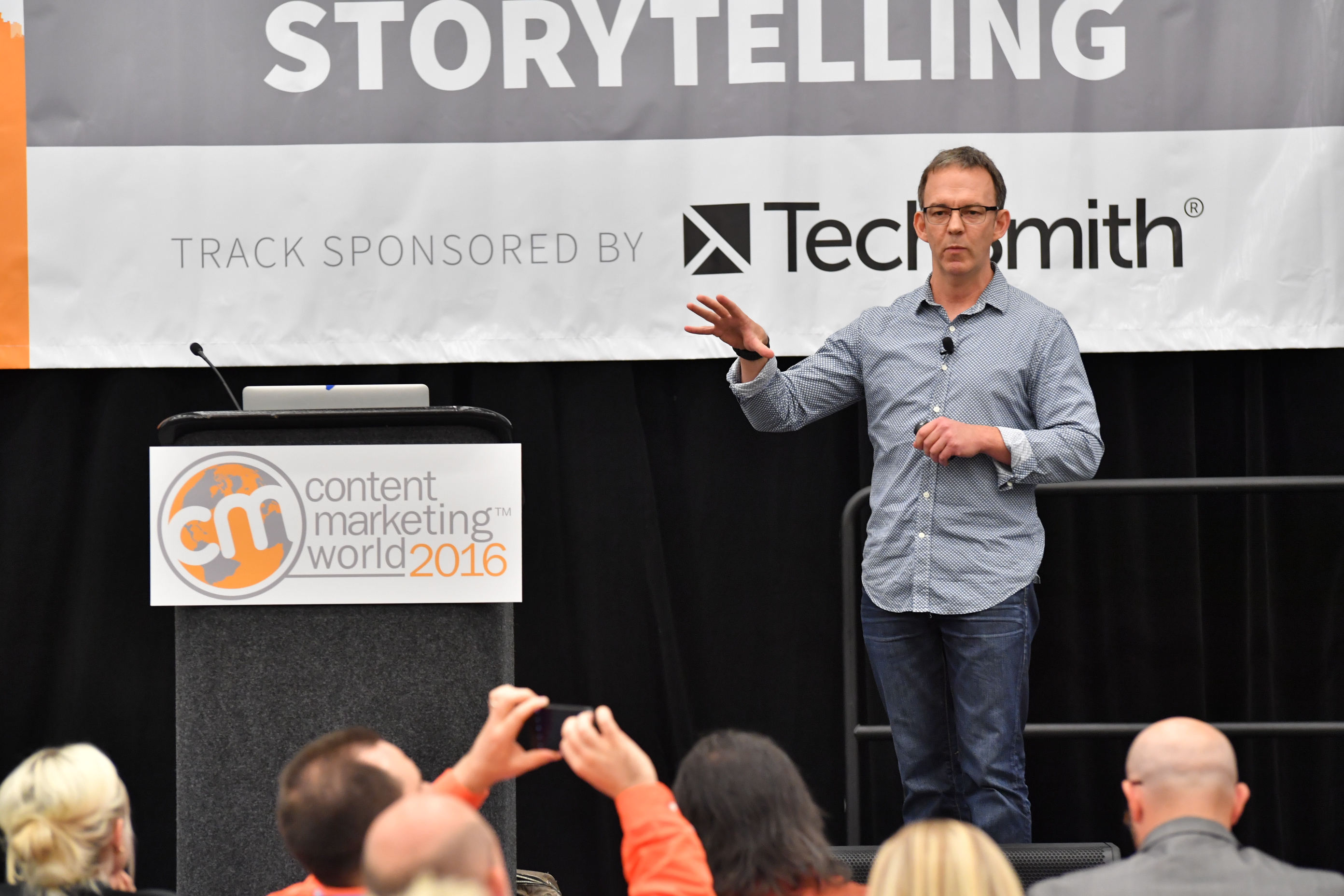 Using humor is a great way to break through all the clutter and get your brand some attention. But sometimes it can be hard to find that big idea.
There are other barriers, of course. My personal favorite is the legal team. Okay, that's not my favorite at all (hi, legal team!).
Tim Washer works someplace serious – at Cisco Systems, where they make serious things like servers. He's anything but serious and has been quite successful anyway. Below is a video of his presentation from Content Marketing World 2016 about using humor and improvisation techniques to help your brand stand out. Take a look:
It's easy to see how Tim has been successful. Let's look at how his ideas can help you:
When generating ideas, find your open place
Become aware of what can get in the way of any creative work and eliminate it (even if just for a short time)
Don't be afraid that you'll look silly or stupid, take a chance
Tim reminds us that Monty Python's John Cleese says humor is the fastest way to get to that open place
Embrace simplicity and reward your audience for listening
Avoid complexity, keep things simple (your audience will appreciate it!)
Tim says there's an inverse relationship between the number of slides in your presentation and your knowledge of the topic; don't over-do it
Keeping things simple can help you get your point across much faster
But watch out for your own inner critic, he says; don't edit yourself when brainstorming
Don't over-analyze the situation, just let creativity happen
Analysis is good, but don't let it kill a good idea
Sometimes we over-think things unnecessarily and miss a chance to have some fun
Avoid committee thinking or groupthink (that's not fun!)
"Even if you're a sole proprietor, you should have diversity…otherwise, you're going to get a call from HR." I don't have anything to add to that one, it's just funny.
In the world of improv, Tim says there are no mistakes, only gifts. It's this kind of thinking that allows people to free themselves from the worry of failure and find more great ideas. We should use this thinking more in the corporate world, he says, to make our marketing more approachable and fun.
And he's proof that it can work quite well.
If you want to learn more about the critical topics all marketers need to know when adding content marketing to the mix, like using humor to break through the noise, learn from the experts like Tim. Come to Content Marketing World 2017, September 5-8 in Cleveland. Code BLOG100 saves $100! Register today!
Posted August 23, 2017 in: Event by Mike Myers
---