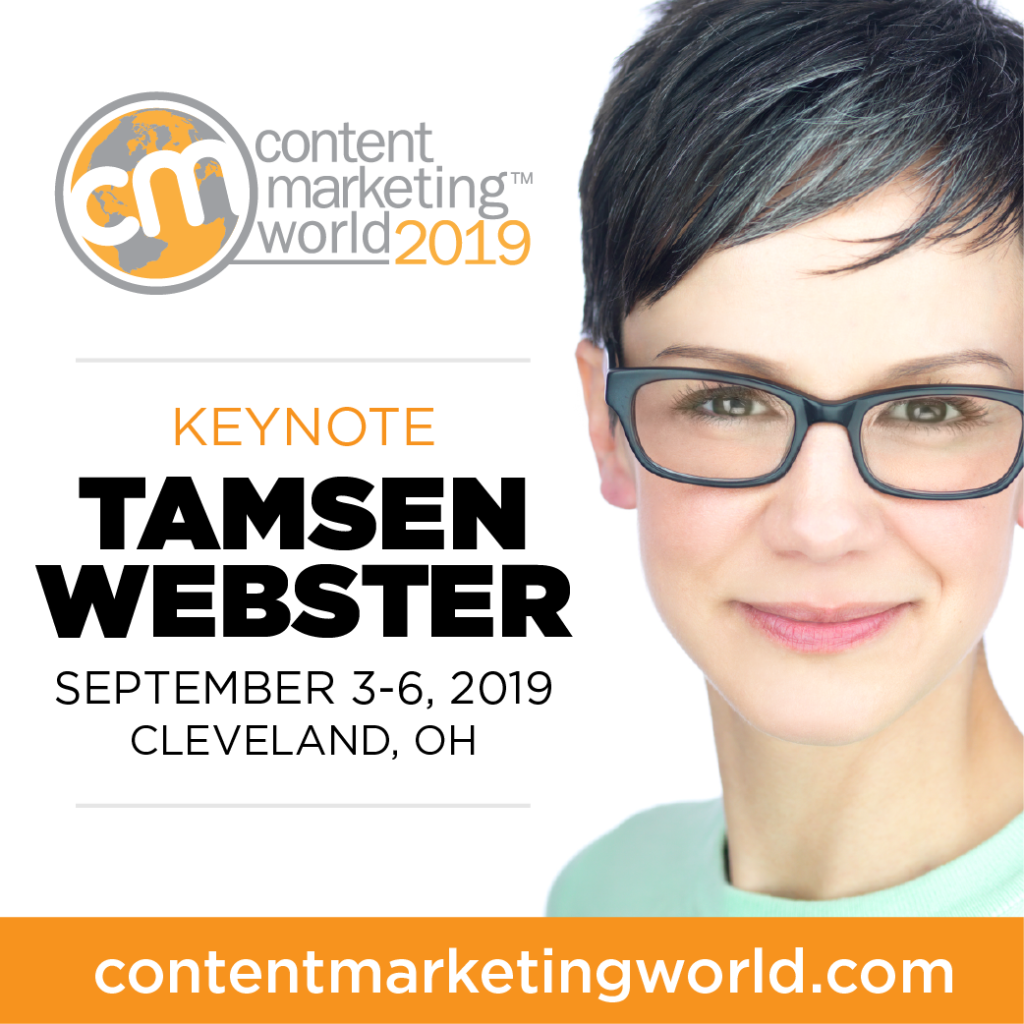 Our 9th annual Content Marketing World 2019 conference and expo is taking place September 3-6, 2019 in Cleveland, Ohio. Our general session is the one spot where all 4,000+ attendees convene at one time in one room, hearing from our keynote speakers on the main stage. These speakers help us tie our week together – the 200+ breakout sessions, workshops, industry forums, evening networking and everything in between. These keynotes help us find meaning in our experiences at CMWorld, find value and inspiration beyond tactical breakout sessions, and help us "create change, or simply feel in control of all the change that's happening around us."*
They help us identify a "red thread", if you will.
Now if the concept of finding the Red Thread™, sounds familiar to you, you'll be thrilled to hear our exciting news. With her amazing scores from the Content Marketing World 2018 post-event evaluation and the ability to pack a room, Tamsen Webster has earned a spot on the main stage for our opening keynote.
With a rich history in the marketing industry and beyond, Tamsen brings a wealth of knowledge to Content Marketing World, having spoken at many previous CMWorlds.
Tamsen's bio on her website mentions that "as the 'Idea Whisperer,' she helps people find, build, and tell the stories of their ideas using their Red Thread™, the universal (but unique!) tie between how we see the world and what we do in it."
Tamsen's own Red Thread™ weaves through her 20 years as a brand and message strategist at some incredible places including The Boston Conservatory, Harvard Medical School, Oratium and Peabody Essex Museum, though she says she learned the most about inspiring change as a Weight Watchers leader.
As a TEDx Executive Producer, she has coached experts, iconoclasts, and pioneers from around the world to build their Red Threads into Ideas Worth Spreading—and more than 9 million YouTube views.
Today, she travels the globe speaking on storytelling, branding, change management, and idea development, and is a go-to consultant for enterprise companies like Verizon, Johnson & Johnson, and State Street Bank who want their big ideas to have an even bigger impact.
For Content Marketing World and CMI, she's:
Been an open book on successful public speaking and calming those speaking jitters
Spoken to standing-room-only crowds in her popular breakout sessions talking about speaking, marketing and content marketing
Helped our 2018 CMWorld speakers fine tune their presentations through her CMWorld speaker video series.
Please join us in congratulating Tamsen on this honor – and congratulate CMWorld on Tamsen saying yes! But even better than that, please join us in Cleveland this September for what is sure to be another epic event with our favorite storytellers from all over the world.
Register today with code WEBSTER19 to save $100 off any in-person package.


*I took this amazing quote directly from Tamsen's 2ndepisode of Find the Red Thread. Take a listen so you can hear more!
Posted February 11, 2019 in: Event by Cathy McPhillips
---