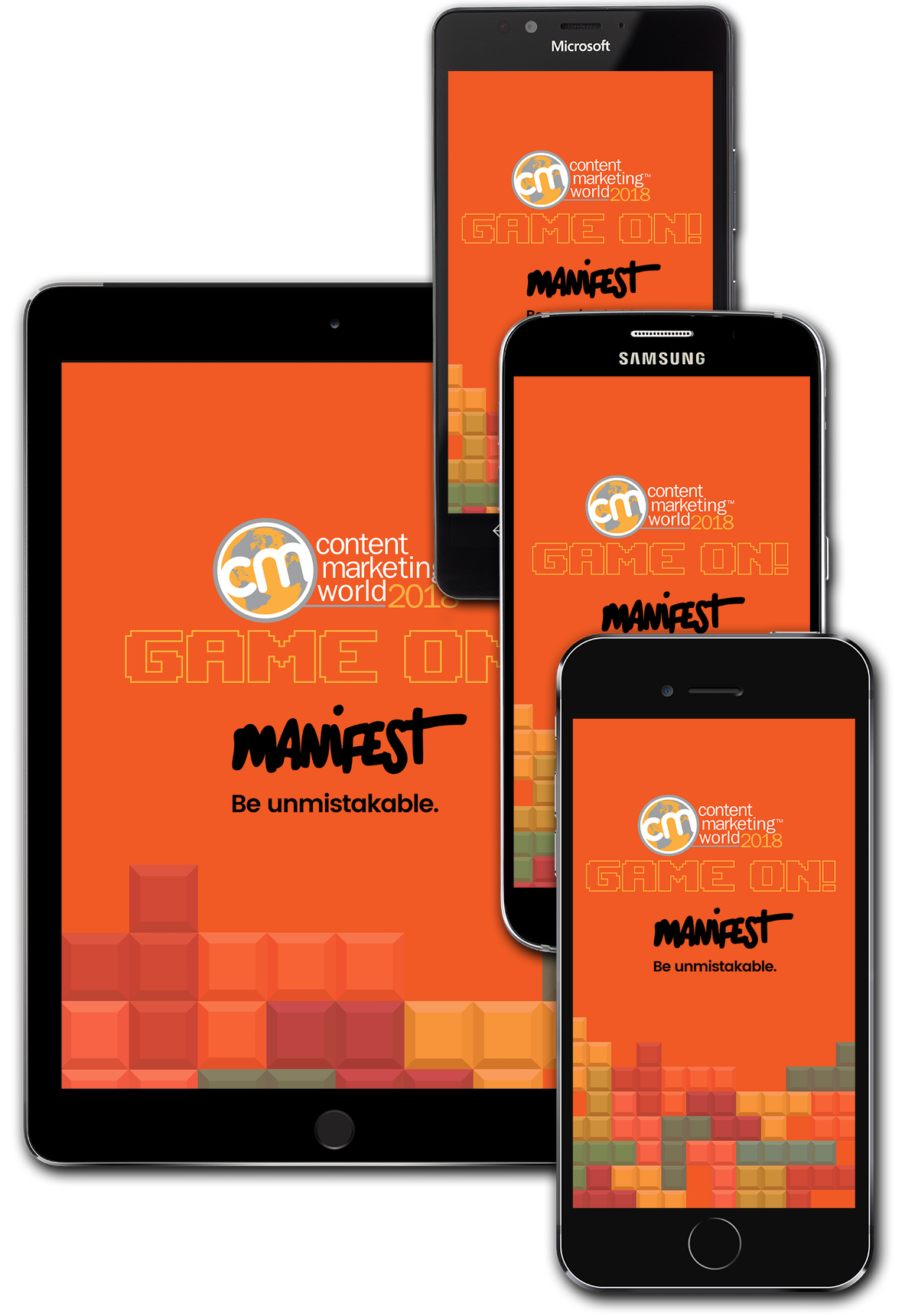 The CMI team has been hard at work creating a new mobile app experience for Content Marketing World 2018, and we're happy to say it's ready for you to download! It will help you bookmark sessions, connect with other attendees, find your way around the Huntington Convention Center of Cleveland and so much more.
But first: Haven't registered yet? STOP. Go immediately to our registration page and sign up, because #CMWorld app access is only given to registered attendees. Go ahead, we'll wait.
All registered? HOORAY! Let's proceed.
Download the app – Visit the app store and find the Content Marketing World 2018 app in iTunes or Google Play, or by searching "CMWorld." This is a new app this year. If you have last year's app, please delete it and download the new app.
Log in to the app  – Please use the same email and password you used to register for CMWorld – they are your credentials for the CMWorld app.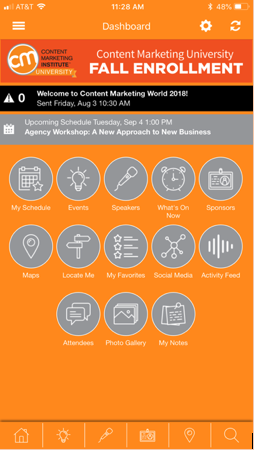 Start by updating your profile. Click on the gear in the top right, then click on "My Profile." Fill out the fields you would like (don't forget to tap in the publish your profile section until there is an orange arrow if you want other attendees to be able to engage with you in the app) then be sure to click "Save" all the way at the bottom so your profile is complete. If you have chosen to publish your profile other attendees can now find and connect with you!
Hit the back arrow in the top left so you can begin to look around. By now you've navigated the agenda on the website and have an idea of which sessions you'd like to attend. If not, that's OK! The app is easy to use and you can decide which sessions to bookmark along the way.
Scroll through the agenda – "Events", and you'll see the times of each general session, breakout session, networking break and more. You'll want to definitely bookmark your breakout sessions. You can always change your mind, but it's best to have an idea of what you'd like your week to look like. NEW THIS YEAR: Per attendee feedback, there is no advance session selection. We've increased seating in rooms and left more time in between sessions. We hope you like this change!
If you click on a session, you'll get more details. When you're ready to add this to your tentative schedule you can click the star on the left side. When it has been added to your schedule the star will turn orange. Changed your mind and want to attend another session? With another quick click on the star, you can easily remove bookmarked session from your schedule.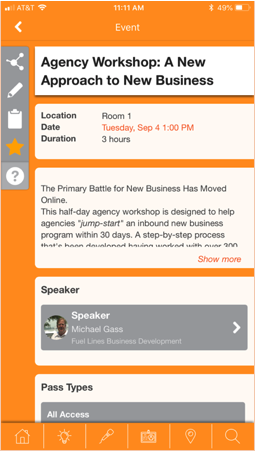 Build your perfect schedule, and you're all set! Don't forget, main event breakout sessions are taking place again on Friday morning, so you'll want to add those as well. Lastly, go ahead and star the general sessions or networking breaks, just so they show on your schedule and so you can see it all at a glance within the app.
Once you've finished scheduling your agenda, take a look around. You can begin to network with attendees to meet like-minded industry peers by clicking on the "Attendees" section or start a conversation in the "Activity Feed" section. Check out the expo hall and the sponsors so you can plan who you would like to meet with to solve your biggest content marketing challenge, follow speakers to see what topics they'll be tackling at CMWorld, and so much more.
Along the bottom of the app are your key places: Home (house), Events (lightbulb), Speakers (microphone), Sponsors (badge), Maps (locator pin) and Search (magnifying glass)
And finally, once you've downloaded the app, connect with the #CMWorld community on Twitter. Conversations are already starting. You can see them on Twitter, or in the app!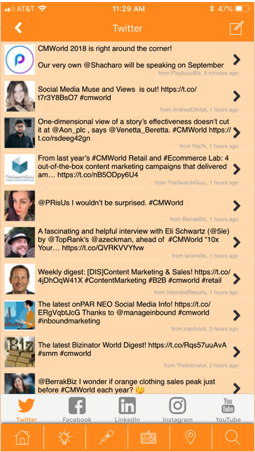 We all love this conference and know that it's one of the best places to make great connections with other marketing professionals. With the app, you can network to your heart's content by creating a full and rich profile, messaging with other attendees and swapping contact info with the click of a button.
Some of our favorite new features:
What's On Now– You had the best intentions of planning your schedule in advance, but you forgot one breakout time slot. Click on What's On Now and you'll see your options!
Locate Me– The convention center is seemingly straightforward – until your bearings are off. Look around, see where you are, and go to Locate Me in the app. It will help you get to where you're trying to go.
Lastly, troubleshooting: If you have forgotten the password – or it is not letting you login with what you think is your password, please hit the "Forget Password" link on the sign on page to reset your password and log-in.
Your case sensitive password must be at least 8 characters, include a number or a special character and you can not use an email address as a password. Please note this will also change your password for your CMWorld registration record if you need to log back in to that and modify/update your registration.
Not yet registered? Fear not, there is still time. Visit our registration page and get signed up today. As a bonus, use code CMWBLOG to save $100!
We can't wait to see you! If you are having login issues with the app and resetting your password isn't helping please contact [email protected] or fill out our contact form.  If you have anyl other technical questionsabout the app itself, let our app team know at [email protected] or (443) 424-2673. If you have event-related questions, leave us a comment here and we'll get back to you.
Posted August 13, 2018 in: Event by Cathy McPhillips
---