Content Marketing World is part of the Informa Connect Division of Informa PLC
This site is operated by a business or businesses owned by Informa PLC and all copyright resides with them. Informa PLC's registered office is 5 Howick Place, London SW1P 1WG. Registered in England and Wales. Number 3099067.
The Art of Interviewing: A #CMWorld Twitter Chat with Laura King Edwards
Interviewing is the cornerstone of good storytelling.  
As content marketers, it's our job to ask a lot of questions. On a recent #CMWorld Twitter chat, we spoke with Laura King Edwards about strategies for perfecting interviews. As content lead at Wray Ward, Laura knows mastering this skill can be difficult. But she says it can be made easier with the insights shared here. 
What follows is a brief summary of the chat. If you're looking for more tweets, click here.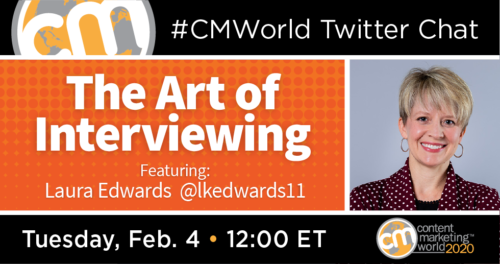 Why is interviewing a key skill for content marketers?
What are ways to prepare for an interview? Are there instances when you shouldn't prep?
Why is establishing a rapport with your source important?
How can you structure questions so they encourage a source to give useful answers, rather than a bunch of platitudes?
Silence can be awkward, but it can also be an important component to your interview. What are some reasons why you should quietly sit through it?
Our community shared several tips for notetaking during interviews.
Tell us about a favorite interview – either one you've done or one you've watched. What made it special and unique? Leave us a comment. 
Be in the room where the BIG interviews take place. Get your Content Marketing World ticket now to hear from our keynotes and speakers. Register today with code SM100 to save $100 off our Super Early Bird rates! 
Posted February 5, 2020 in: Event by Monina Wagner
---
UP