Content Marketing World is part of the Informa Connect Division of Informa PLC
This site is operated by a business or businesses owned by Informa PLC and all copyright resides with them. Informa PLC's registered office is 5 Howick Place, London SW1P 1WG. Registered in England and Wales. Number 3099067.
The Business of Marketing Yourself: A #CMWorld Twitter Chat with Emilie Moreland
Content marketing? No problem. But how are you at marketing yourself?
That was the topic for this week's #CMWorld Twitter chat. Some of us aren't comfortable talking about ourselves. Others are unsure of how to approach it. It's a conversation Emilie Moreland, Head of Content at Digital Room Inc., has regularly. She writes to guide clients online about effectively marketing themselves offline.
As always, our CMWorld community had a lot to say. The beauty of our community is the diverse perspectives its members bring to the table. Whether you're just starting out or hoping to move to the next level, you'll find the conversations here helpful.
This is a brief look at the Twitter chat. For more tweets from the discussion, check out our Twitter Moment. Or visit our LinkedIn Group for more thoughts.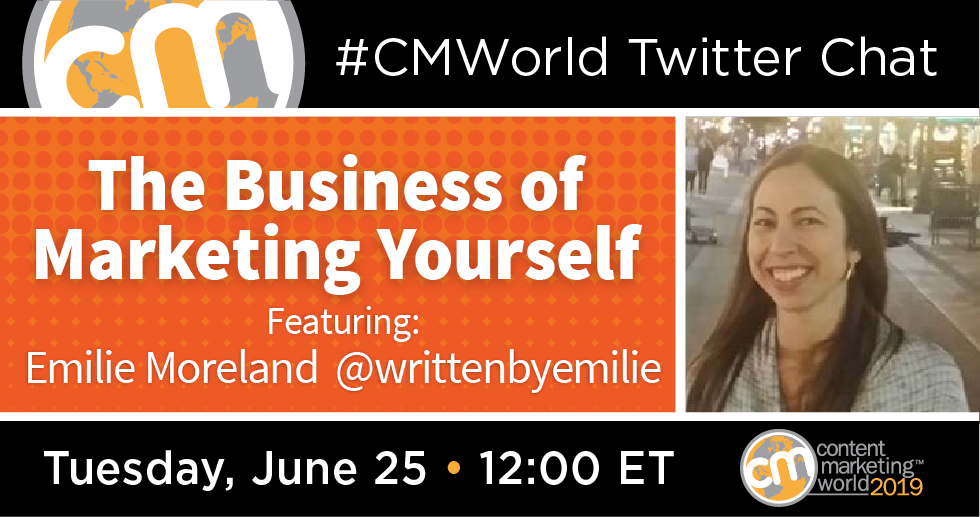 Do you have an elevator pitch? What should be included in one? When do you use it?
Do you still use business cards at events? Or do you go digital? What are the advantages/disadvantages of either?
What are some non-traditional ways to highlight your content marketing skills? How are you marketing yourself?
What are your tips for marketing yourself? What's your elevator pitch? Share it with us in the comments below.
Looking for an opportunity to market yourself? Want to network with like-minded pros? Attend Content Marketing World 2019. Register with SM100 to get $100 off.
Posted June 26, 2019 in: Event by Monina Wagner
---
UP