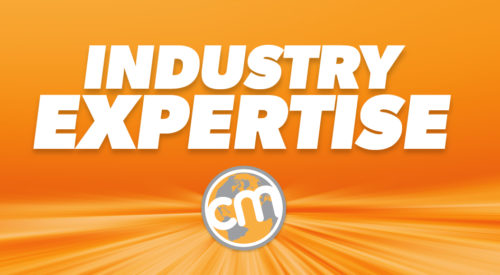 Editor's note: This post by Ann Gynn is adapted from her article, 6 Email Newsletter Ideas for More Opens, Clicks, and Shares on the Content Marketing Institute website.
Your email newsletter database is valuable. After all, these people signed up to receive your content. They must be eager to consume it, right?
Well, given that the average email open rate in 2020 was 18%, it's likely that fewer than one of every five subscribers you've earned will even give your content a fleeting glance.
Yet, daily newsletter brands Morning Brew, theSkimm, and The Hustle have all found ways to buck this trend, achieving open rates that approach the 50% mark and subscriber numbers that would make any content marketer green with envy.
So, how are they doing it? And, more importantly, how can you put their approaches to work for your newsletter efforts? Here are four ideas you might want to try:
1. Don't require a click
Morning Brew, theSkimm, and The Hustle newsletters are self-contained. Each newsletter gets to the point quickly, so readers can consume and understand the main points without ever having to click to go to the brand's website to learn more.
That may seem counterintuitive to marketers. Yet, if your content's goal is to build a valuable relationship with your audience, it makes sense: Don't make your audience work harder for your content than they have to.
Further, by thoughtfully designing your e-newsletter with the audience in mind, you can better address varied reading habits. For example, you can create subheads and snippets for at-a-glance readers, while offering links to longer pieces and additional resources for those who are eager to explore the topic in more depth.
2. Craft custom subject lines – and be consistent
Even though they signed up to receive your content, few people will work to find it in their crowded inbox. Make it easier for them to spot your e-newsletter by expressing your brand voice and visual identity in the subject line – a consistent look and familiar feel will draw the eye more than random words.
For example, Both The Hustle and Morning Brew use emojis in their subject line, yet they use different approaches. The Hustle chooses an emoji that's relevant to the big story of the day.


In contrast, Morning Brew always uses the same emoji – a coffee mug, which smartly aligns with its brand.

3. Give credit to all the voices behind your email content
Most media brands use bylines to credit their writers. But this approach omits the other valuable parties in the publishing process (editors, proofreaders, designers, artists, etc.). Incorporating the names of all the people involved in producing your content lets your audience see your brand as made up of living, breathing people instead of a faceless corporation only concerned about sales and stats.
All three newsletters incorporate that human side by incorporating their team members' names at the end of each email – just like the credits that roll at the end of a movie. The Hustle also includes a link to each writer's social media profile and their nicknames and role descriptions to make the information feel warmer and more personal.
4. Let readers have some fun
Even if your content focus is informational or educational, you can still offer subscribers an experience they can enjoy.
For example, Morning Brew includes a games section featuring the Brew Crossword.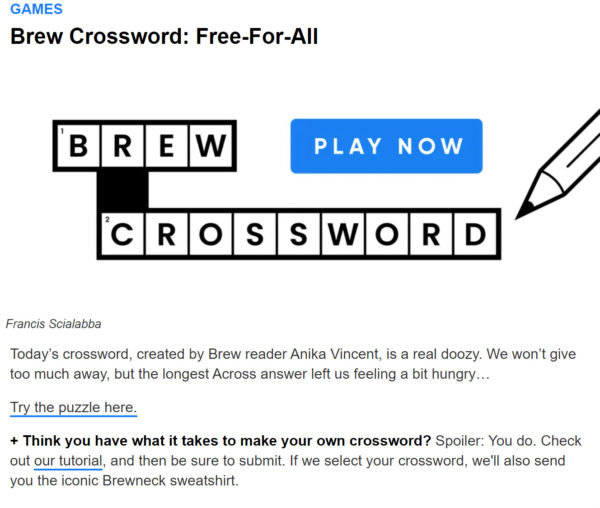 Not all newsletters need to go so far as to create a crossword puzzle, but most can benefit from a light touch at some point in the content. Think about including a joke, a meme, a video, or even a quote – as long as it's relevant to your core topic and is in line with your brand voice.
Reflect before you hit send
You invest time and resources to create e-newsletters. No matter your ultimate goal, you first have to get recipients to open them. By considering these four lessons from some of the best in the business, you can make smart adjustments to help your email open rates rise and your subscriber base grow.
For additional take-aways from Ann's analysis of these hit newsletters, read her full post on the CMI website. And if you're looking for help with creating content in other formats, register to attend CMWorld 2021 and check out the sessions in our Content Creation and Development track.