With over 100 speakers, Content Marketing World 2020 was an amazing event. Attendees were treated to keynotes by Jay Baer and W. Kamau Bell. Ann Handley's puppy made an appearance during her AMA. A. Lee Judge talked about how we can be the content that breaks through the noise. Sydni Craig-Hart stressed the importance of diversity and the need for marketers to be a catalyst for change in the industry. No matter what their current focus or interest is, CMWorld attendees found the information, tools, and relationships to take it to the next level.
Just because the event is over doesn't mean you can't still take in all of its orange goodness. The CMWorld on-demand experience is everything you'd expect and more. Get 24/7 access to our 2020 agenda, with full presentation slides and synchronized video. Our online library will remain open until April 30, 2021, meaning you can dive into the conference – by track, speaker, or audience level.
Ready to hear from industry pros and level up your own expertise? Here's what you need to know to start streaming CMWorld.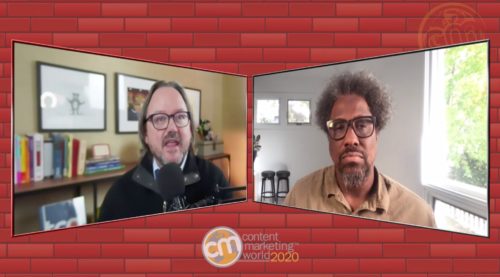 How do I log in?
CMWorld on-demand is available with the purchase of any conference pass. If you joined us this year, you can revisit the sessions you attended or catch presentations you missed. Registered attendees can log in with the credentials sent during the event.
Didn't have a chance to join us but still want to take advantage of the insights and best practices? Buy a Virtual Pass now.
Where can I find the event schedule?
The conference agenda can be found on our website. Here you can explore our 21 tracks, read session descriptions, and check out our speakers' biographies.
How do I watch the keynotes?
Keynotes can be found on the main page. Scroll until you see Completed Keynote Sessions. Proceed to the highlighted "route" below to choose the keynote session you are interested in streaming. These are organized in chronological order, starting with Robert Rose's opening keynote on Tuesday morning. Click on the arrow on the right to see more, or click "view all" just above the fourth keynote.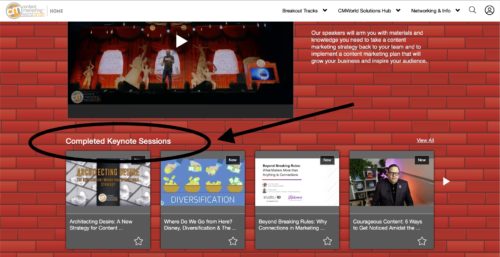 Where can I find the breakout sessions?
All breakout sessions are conveniently located on the event platform and organized by track. Choose the "Breakout Tracks" dropdown and locate the track and session you want.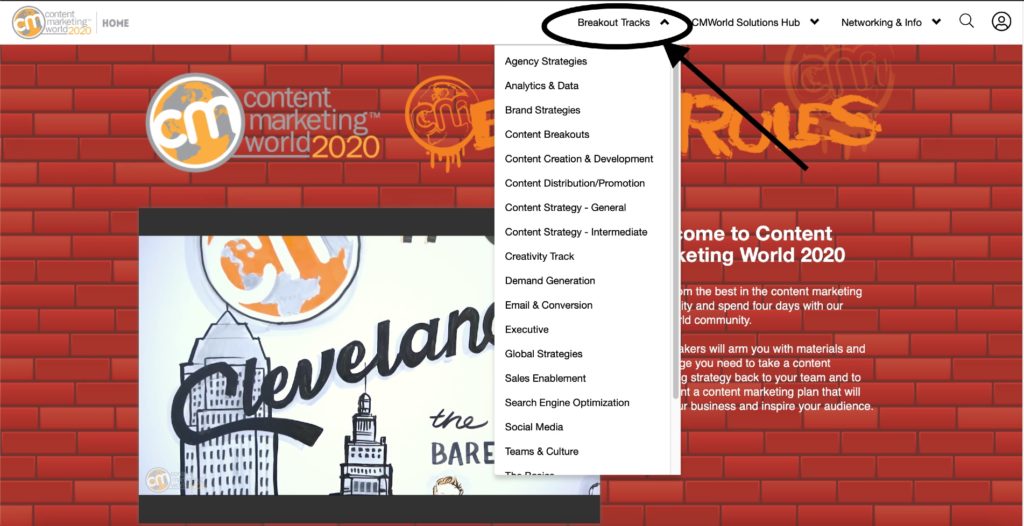 I'm lost in the platform – help!
There's a lot of content here! When in doubt, hit the home button in the top left. You can get to everything from this page. Either use the top navigation or scroll down underneath the main player to see the various parts of CMWorld 2020.
Can I download presentation slides?
Yes. If you look to the left of the player window, you'll see the presentation slides. While you're there, be sure to also complete your speaker evaluation. We read each of these and it will help us program CMWorld 2021.
Can I still ask the speakers questions?
Most speakers have included their contact info at the end of their presentation so questions can be answered and conversations can continue. They have also invited attendees to connect with them on Twitter or in the Facebook Group.
Don't forget to join your fellow content marketers online to discuss favorite takeaways, ask questions, and explore partnerships!
Content Marketing World would not be possible without our incredible sponsors. Our event may be over, but our Solutions Hub remains open. With one click, you can say "hi" to a sponsor, download resources, and request a demo directly from our platform. Be sure to add to your on-demand experience with a visit here.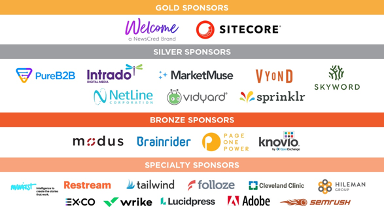 You're now ready to watch sessions from the globe's top content marketing thought leaders!
CMI General Manager Stephanie Stahl wrote about her favorite CMWorld takeaways. Did you put together a recap? Drop it in the comments. We'd love to give it a read and share it with the #CMWorld community.
Posted October 28, 2020 in: Event by Monina Wagner
---