Content Marketing World is part of the Informa Connect Division of Informa PLC
This site is operated by a business or businesses owned by Informa PLC and all copyright resides with them. Informa PLC's registered office is 5 Howick Place, London SW1P 1WG. Registered in England and Wales. Number 3099067.
The End of In-Person Conferences (As We Know It): A #CMWorld Twitter Chat with Vishal Khanna
The global pandemic has caused a major disruption to our industry. Marketers have had to adapt. We've audited our content. We've reexamined our metrics. And sadly, we've had to pivot our in-person events. For example, CMI shifted and transformed Content Marketing World and ContentTECH Summit into virtual conferences.
Is this the end of in-person events as we know it? Can we – as attendees, speakers, and vendors – survive this major blow? We invited HealthPrize Technologies Vice President Vishal Khanna to a recent CMWorld Twitter chat to discuss. We had a great conversation about how marketers can reduce the impact and make our work more effective.
The chat taught us you can still fill your pipeline with promising prospects and show off your expertise. Here's a brief look at what our community is doing. If you're looking for more insights, check out all the tweets our Twitter Moment.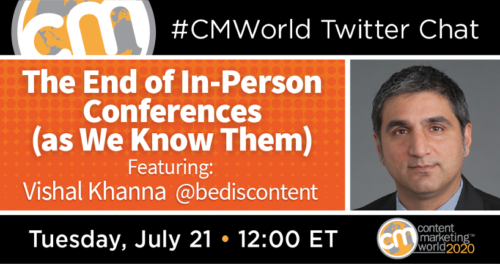 2020 has brought about the end of in-person conferences as we know them. What are some major changes you see in 2021 and beyond?
The pandemic has led to the cancellation of many conferences. If in-person events are a cornerstone touchpoint for a brand, how should marketers pivot? What can they do now to drive pipeline activity?
If you're diverting resources away from conferences, where can you put them now to garner that same level of lead-gen value and audience engagement?
Vishal says he misses in-person conferences. He goes on to say it's a real change for those of us who had in-person events ingrained in our models. We agree! Vishal, we miss you and the CMWorld community too. We can't wait for the day when we can meet up again.
Do you lead a small staff? Or a team of one? Learn how you can succeed in content marketing when you attend Vishal's ContentTECH Summit session. There's still time to register!
Posted July 22, 2020 in: Event by Monina Wagner
---
UP