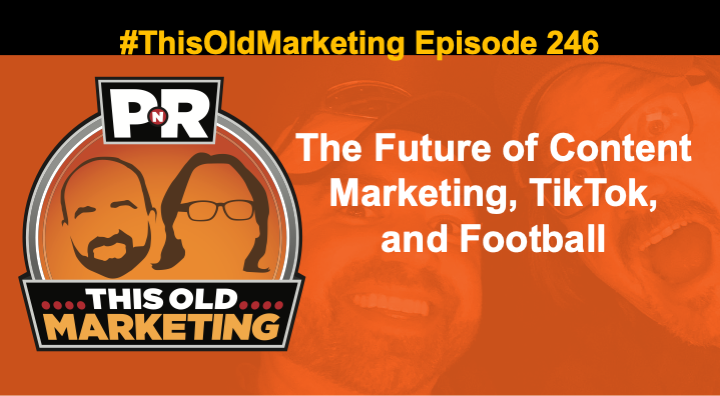 In this very special episode of PNR, Joe and Robert talk about Content Marketing World's 10-year anniversary, the changes in content marketing, and what should happen to the industry. News stories include TikTok's sale. Will it go through and when will that be? In addition, it looks like Google is going to bail out the entire publishing industry. And, of course, the boys discuss who is going to win the Cowboys/Browns game and what's on the line.
Enjoy the show!
Recorded live October 1, 2020; Length: 1:04:34

The Deep Dive
(04:19) Joe has finally watched The Social Dilemma on Netflix, and it sparks an interesting conversation about the advent of social media, addiction, and privacy.
Notable News
(17:30) Why TikTok is now trapped in limbo. (Source: Forbes)
(22:44) Google says it will pay publishers $1 billion for news in next three years (Source: CNBC)
10 Years of Content Marketing World
(29:10) A lot can happen in 10 years. To celebrate one decade of CMWorld, Joe and Robert share never before told stories about the conference and its community.
View this post on Instagram
The Show Sponsor
(51:50) You guessed it. This episode is sponsored by CMWorld. Joe says this will be his best keynote yet. You know Robert's will be equally as amazing. Don't miss out. Register now with discount code PNR200 for $200 off at checkout.
Rants and Raves
(53:54) It may be the empirically proven favorite part of the PNR, but this week, the guys are skipping the rants and raves. Today, it's about gratitude.
Before you go, it wouldn't be PNR without a chat on football. This week, the Dallas Cowboys face the Cleveland Browns, and the guys make a friendly wager.
Until the next episode, be safe and healthy, PNR friends.
Subscribe to PNR: This Old Marketing at Apple Podcasts, Google Podcasts, Stitcher, iHeartRadio, Spotify,or wherever you listen to your favorite shows.
Sign up for Joe's Random Newsletter at JoePulizzi.com. His new book, Corona Marketing, is now available. Follow him on Twitter @JoePulizzi.
Look for Robert's newsletter at The Content Advisory. Follow him on Twitter @Robert_Rose..
Posted October 2, 2020 in: Event by Monina Wagner
---