Content Marketing World is part of the Informa Connect Division of Informa PLC
This site is operated by a business or businesses owned by Informa PLC and all copyright resides with them. Informa PLC's registered office is 5 Howick Place, London SW1P 1WG. Registered in England and Wales. Number 3099067.
The Future of Google Analytics: A #CMWorld Twitter Chat with Charles Farina
Chances are you're already using Google Analytics. I mean, it is one of the most robust evaluation tools out there for content marketers. You track key metrics like page views and bounce rates. You feel pretty confident navigating GA until we introduce you to Charles Farina.  
As Director of Analytics at Adswerve, Charles sees the power of Google Analytics. He knows it can uncover deeper, more actionable insights. On a recent #CMWorld Twitter chat, Charles introduced us to App + Web, a new version of GA. To recap our discussion, we're going to break away from our usual post format. This time, we're only including tweets from Charles because of how tactical they are. Be sure to take a look; you'll want to bookmark the resources and save some of the images. 
If you're not quite ready to check out the beta version of the new Google Analytics but would like to advance your knowledge of GA, Charles encourages you to check out Google Analytics Academy, a hub with free online courses.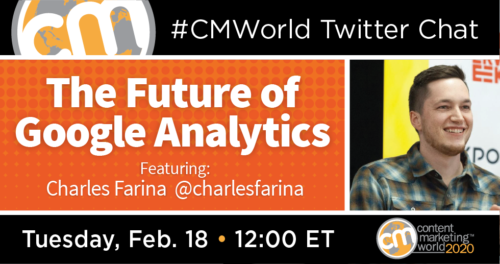 How are you using Google Analytics to measure content marketing success? We'd love to know. Leave us a comment below. 
Charles will be introducing #ContentTECH Summit attendees to the next generation of  Google Analytics. Are you ready? Register now to grab a seat in his session. Save $100 on your ticket with code SM100. 
Posted February 19, 2020 in: Event by Monina Wagner
---
UP