Our community is made up of a diverse group of people. Some work as enterprise marketers in a large organization. Some are small business marketers. Others have entered the gig economy.
Freelancers and independent marketers face unique content marketing challenges. They also see opportunities not always given to others. To discuss the gig economy, we could think of no one better than Nicky Pasquier. Nicky's career took an unconventional route. She graduated with an English Literature degree followed by a stint as a paralegal before starting her own business, Virtuoso Assistant. She understands what it's like to make that jump and shared her experiences on the #CMWorld Twitter chat.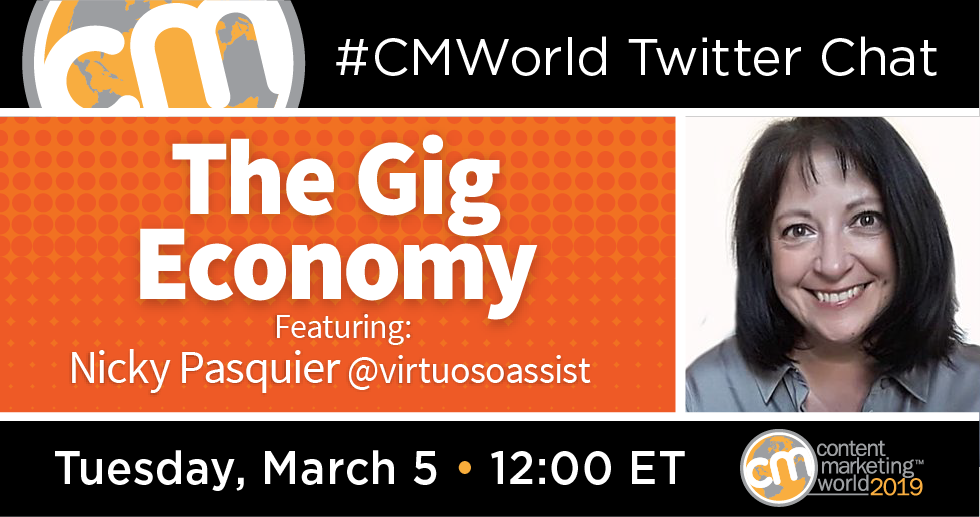 "So, you're giving up the illusion of security for the illusion of freedom."
Wow. Our 2018 Community Champion, Carmen Hill, shared that quote, and it really resonated with a lot of people in our community.
It's no surprise since there was great interest in this topic. We had our community talking so much that we couldn't fit all of our tweets in one Twitter Moment! Take a look for yourself – Recap 1 and Recap 2. Looking for a quick summary? Some of our best comments are featured below.
How can you turn your content marketing skills into a sustainable independent business? Where do you begin?
How do you determine if you are ready to become a freelancer or stay in a full-time position?
Where are good places to generate leads and find work opportunities for your business?
We had a great chat this week. Thanks to everyone that took part!
Have you left a "traditional" job and found success? Have you built a profitable side hustle? Tell us about it in the comments below.
Want to understand your role on a content team? Network with fellow marketers and stay informed on all aspects of the content marketing process when you attend Content Marketing World. Special discount code SM100 saves you $100 at checkout.
Posted March 7, 2019 in: Event by Monina Wagner
---