Content Marketing World is part of the Informa Connect Division of Informa PLC
This site is operated by a business or businesses owned by Informa PLC and all copyright resides with them. Informa PLC's registered office is 5 Howick Place, London SW1P 1WG. Registered in England and Wales. Number 3099067.
The Intersection of Content Marketing and Branded Content: A #CMWorld Twitter Chat with Amanda Milligan
There are people who assume branded content and content marketing are one and the same. But there are differences. Knowing what they are increases your chance of success. We found this to be true when we introduced two new categories to the Content Marketing Awards: B2B and B2C Branded Content Campaigns of the Year. (You can hear from this year's winners in Chief Content Officer magazine.)
Amanda Milligan knows the advantages of branded content and content marketing. As marketing director at Fractl, she practices what she preaches. Her agency uses both to market clients and their own agency.
We invited Amanda to be a guest on a recent #CMWorld Twitter chat. Read on for a brief recap. Want a deeper look at these two strategies? We've curated the top tweets in a Twitter Moment.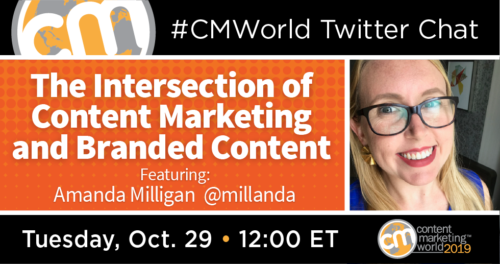 Can a company be successful at both content marketing and branded content at the same time?
The answer from our community was a resounding "yes!" But when companies don't have the right strategy, the results can be harmful.
Should the same internal team handle branded content campaigns and content marketing programs?
Is branded content currently a part of your efforts? Or do you plan to experiment with it in the new year? Tell us about it in the comments below.
Expand your knowledge and skills branded content and content marketing at Content Marketing World. Join our Slack workspace to be alerted when registration opens for our 2020 conference!
Posted October 30, 2019 in: Event by Monina Wagner
---
UP