Content Marketing World is part of the Informa Connect Division of Informa PLC
This site is operated by a business or businesses owned by Informa PLC and all copyright resides with them. Informa PLC's registered office is 5 Howick Place, London SW1P 1WG. Registered in England and Wales. Number 3099067.
The Intersection of Customer Experience and Content Marketing: A #CMWorld Twitter Chat with Sue Brady
No customer wants a disappointing encounter in their interactions with a brand. But what role does content marketing play in delivering an optimal customer experience across the buyer journey? On a recent #CMWorld Twitter chat, we spoke with Sue Brady, Vice President of Marketing and Customer Engagement at Hughes. Sue gave us insights into the current state of customer experience and how to achieve our goal of keeping buyers happy.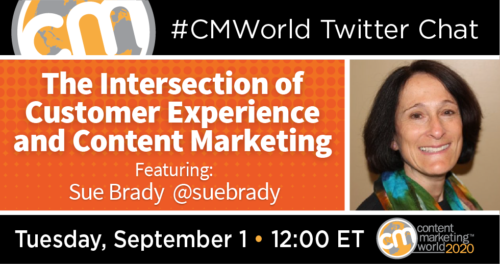 What follows is a brief recap of our discussion. Read our Twitter Moment for more tweets from the chat.
What are ways to identify the types of content that will help enhance the customer experience?

Should your customer experience efforts vary at different points of the funnel? Is there one area you should concentrate your content on over another?
What challenges can marketers face when it comes to CX? Why do we sometimes struggle to deliver customer experiences that exceed customer expectations?
How are you identifying the types of content that will help enhance the customer experience? Have you faced any challenges? Share your insights in a comment below.
Help your team advance their audience-focus and sales-centric skills. Sign up for Content Marketing World. Group rates are available!
Posted September 2, 2020 in: Event by Monina Wagner
---
UP