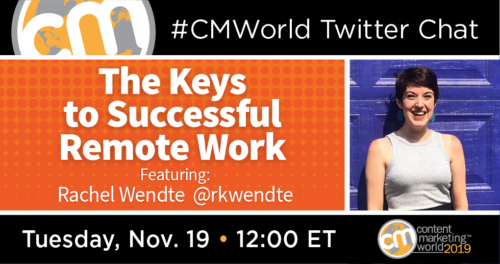 When you hear "work from home" what do you picture? If you're someone that works in an office, the connotation might be someone that sits around in pajamas all day, doesn't accomplish much and takes advantage of the right they've been given. But in reality, remote workers include leaders from companies, business owners, and more. In this week's #CMWorld Twitter chat we dove deep into this topic and saw some common themes develop. We were lucky to have Rachel Wendte, a UX Design Tutor at CareerFoundry, join us as our special guest. She had some great answers, and to top them off, she was well-prepared with coordinating gifs for each of her tweets.
Present at the Twitter chat included many remote workers (the CMI team included), many that toggle between office time and remote time, and some that take advantage of coworking spaces. Regardless of where we all work, one thing was clear: There's no slacking going on on the part of #CMWorld Twitter chat participants who work remotely.
So what does it take from a tech standpoint and an organizational standpoint, and what mindset does it require to successfully work virtually? Below is a recap of our discussion on the weekly #CMWorld chat. Look to our Twitter Moment for more tweets.
Let's jump in: Remote work is on the rise. What are some benefits for professionals? For employers?
Communication is crucial in any workplace, but it can be difficult when you're on a remote team. How can you make connections with your coworkers? What can you do to ensure everyone stays in the loop?
How do you minimize distractions while working remotely? How can you make sure you're staying on track?
So there you have it! Stay organized, stay connected, stay happy and balanced! What tips do you have to be the best remote worker? What are your thoughts on the best remote management style? What would you add to this conversation? We'd love to know!
The best way to combat the remote work rut (even though we know you love it most days!) is to get out and connect with people in person, and we think the best way to do that is by checking out a CMI event! Next up for us is our ContentTECH Summit in San Diego in April. Registration is now open. Book your pass now for the best possible prices – enjoy up to $600 off onsite rates!
Posted November 20, 2019 in: Event by Cathy McPhillips
---